Lisbon's Heart Is in San Francisco-Style Startups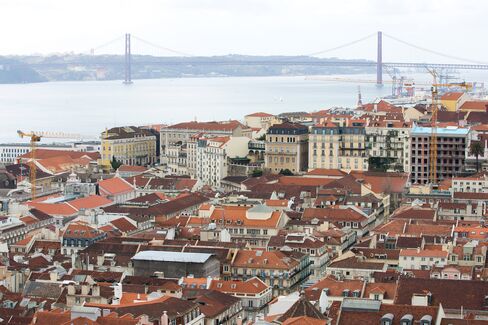 Lisbon's red suspension bridge appears to be a clone of San Francisco's majestic Golden Gate, and both cities are spread over hills linked by cable cars. If the mayor of Portugal's capital has his way, the similarities will extend to a ferocious pace of technological innovation.
"We opened our first startup incubator last year in downtown Lisbon and everyone said it was foolish, but we ended up having 600 candidates for 60 slots," Mayor Antonio Costa said last month at the opening of another facility for digital entrepreneurs determined to conceive the next big thing. "We're creating a new paradigm for the city."
Costa is counting on new technology clusters along the Tagus River to attract young people eager to build ventures, creating jobs and reviving the downtown after an exodus of companies. The stakes are high as Portugal's economy is mired in recession, with youth unemployment at a record 42 percent. And the mayor is competing with cities from Helsinki to Berlin to London that want to be Europe's Silicon Valley.
San Francisco and the Silicon Valley rose to innovation greatness decades ago in the shadow of Stanford University and in family garages, where both Hewlett-Packard Co. and Apple Inc. were founded. Now there are startup incubators across the country, often backed by venture capitalists.
In Lisbon, Costa has a digital map of a "startup ecosystem" that features seven incubators, some of which are backed by the city council. His selling point is premium office space at a discount.
Muzzley Mooted
"All we need now is one success story to be taken seriously," said Joao Vasconcelos, head of Startup Lisboa, which hosts 45 startups in a six-story office building that had been unoccupied for years. Vasconcelos says that might be Muzzley, the developer of an application that allows smartphones to control the TV, domestic appliances and some features in the car.
"I believe we could be the next Google," said Domingos Bruges, co-founder of Muzzley, whose clients already include Intel Corp., Volkswagen AG and Portugal Telecom SGPS SA.
Bruges chose to base the company at Startup Lisboa rather than in Silicon Valley, where it has an office at Plug and Play Tech Center, an accelerator in Sunnyvale, California, home of companies such as Yahoo! Inc.
Muzzley won $500,000 in seed capital from Espirito Santo Ventures, a unit of Lisbon-based Banco Espirito Santo SA. While Plug and Play's founder bought a stake in the Portuguese startup this year, Muzzley has no plans to relocate to the San Francisco Bay area, Bruges said in an interview on May 28.
Underpaid Rockers
"Our burn rate in the U.S. would be at least six times higher," said Bruges, whose business employs 13 workers, including himself and a co-founder. "A programmer in the U.S. is considered a rock star. Here we are all rock stars but we just earn less."
Anthony Douglas, 31, also cited costs as a factor for starting his company, Hole 19, at Startup Lisboa. The firm's device works as an "intelligent caddy in your pocket" that includes GPS technology and a scorecard.
"Portugal has immense engineering and design talent with the same quality as Silicon Valley but at a quarter of the price," Douglas said in an interview. "Given the economic situation, young Portuguese are hungry and motivated to make things happen."
The average base salary of a software engineer at Google Inc. last year was $128,336, according to a report by jobs and careers website Glassdoor, while Lisbon-based Muzzley pays an average $59,308, Bruges said.
Crisis Impetus
The cost of employing Portuguese workers fell 6.1 percent between 2009 and 2012, according to a study by Berenberg Bank and the Lisbon Council, a Brussels-based research group. The number of businesses created in Portugal in the first two months of the year increased 37 percent from a year earlier, to 8,654, the National Statistics Institute reported.
Portugal was catapulted to center stage two years ago when it sought a 78 billion-euro ($102 billion) bailout from the European Union and the International Monetary Fund to avoid going broke. The economy shrank 3.2 percent in 2012 and the government forecasts a further contraction of 2.3 percent this year. The jobless rate may climb to 18.2 percent this year.
"The crisis is forcing a highly skilled workforce that used to work for others to build their own companies," said Pedro Rocha Vieira, president and co-founder of Beta-I, an accelerator that is organizing Lisbon Challenge, a four-month program beginning in September that he said will bring together entrepreneurs and mentors from companies including Google Inc. and PayPal Inc. "It's a matter of survival."
Seed Money
Venture funding is also growing, though it pales in comparison to the money available elsewhere. Portugal Ventures plans to invest 20 million euros in startups this year, up from about 5 million euros in 2012, Jose Franca, head of the state-run fund, which has 600 million euros under management, said in an interview on May 29. Venture capital firms in the San Francisco area regularly invest that much in a single startup, and have dozens of companies under their wings.
Franca, who sold Chipidea Microelectronica SA for $147 million to Mountain View, California-based MIPS Technologies Inc. in 2007, is also working with 36 incubators and research centers across Portugal.
"In order to develop a startup ecosystem in Portugal we need to create a culture of entrepreneurship," Franca said. "We are starting now, but some of the companies and ideas emerging in Portugal may have the potential to become champions."
Stickers and Rooms
Other Lisbon-based startups include ReuseGram, an online store that converts Instagram Inc. photos into reusable stickers; Talkdesk, a voice platform for businesses; and UniPlaces, a room-rental portal that caters to university students in Lisbon and London.
Costa, the Lisbon mayor, acknowledged some limitations to the city's incubator plan.
"We don't know how to accelerate startups and we don't have capital to finance these companies," said Costa, who plans to open a third incubator next month for 200 people. "What we do have is plenty of land and empty buildings for companies."
Portuguese office vacancy rates "remain high, and continue to move up due to the ongoing disposal of space by a number of occupiers," Cushman & Wakefield, a New York-based real estate services company, said in a report in April.
Lisbon has backed three technology clusters and is supporting other initiatives to lure companies to the downtown, Councilwoman Graca Fonseca said. The city has invested about 1 million euros encouraging startups, she said.
Entrepreneur Magazine in May ranked Lisbon as one of nine startup hubs to watch this year. Portugal is among the top 10 European countries for fiber-optic connectivity, according to the Council of Europe.
"Portugal has unique conditions to attract foreign investment and talent," said Zeinal Bava, the former chief executive officer of Portugal Telecom who was named this week to run Oi SA in Brazil. "With the level of technology we have in Portugal, nobody is going to care if you are calling San Francisco from Lisbon or from New York."
Before it's here, it's on the Bloomberg Terminal.
LEARN MORE