India Bonds Decline as Weaker Rupee Threatens to Stoke Inflation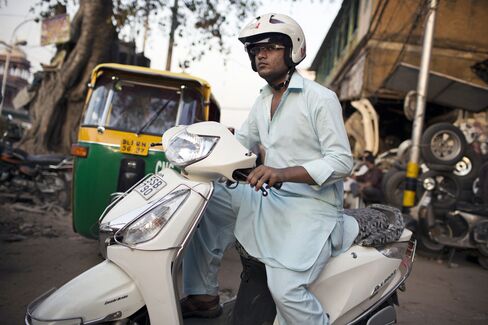 India's bonds dropped on concern the rupee's weakness, stemming from a record current-account deficit, will stoke inflation and limit the central bank's scope to cut interest rates.
Reserve Bank of India Governor Duvvuri Subbarao last week said the nation's balance of payments is under stress and retail inflation remains elevated. The shortfall in the current account, the broadest measure of trade, probably widened to a record 5 percent of gross domestic product in the year ended March 31, Subbarao said, contributing to a 3 percent slide in the currency this year.
"The central bank seems to be focused on the current account deficit and external imbalances and there isn't much room for interest rates to come down," Rajeev Radhakrishnan, head of fixed income in Mumbai at SBI Funds Management Pvt., said in an interview yesterday. "There has been a significant rally in bonds and that will also deter investors from adding to their holdings."
The yield on the 8.15 percent government securities due June 2022 rose two basis points, or 0.02 percentage point, to 7.41 percent in Mumbai, according to the central bank's trading system. The rate declined 28 basis points last month and has fallen four basis points this month.
The Reserve Bank of India reduced the repurchase rate in January, March and May by a combined 75 basis points to 7.25 percent. The rupee touched an 11-month low of 56.8250 per dollar today.
The one-year interest-rate swap, a derivatives contract used to guard against fluctuations in funding costs, rose two basis points to 7.17 percent, according to data compiled by Bloomberg.
Before it's here, it's on the Bloomberg Terminal.
LEARN MORE