Factory Orders in U.S. Increased Less Than Forecast in April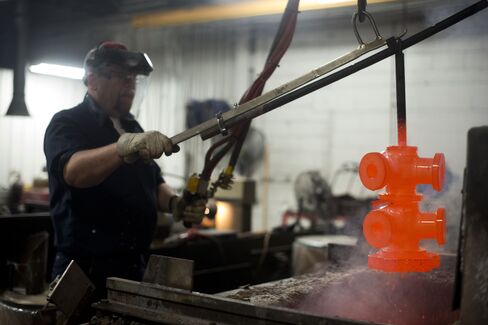 Orders placed with U.S. factories rose less than forecast in April as demand for non-durable goods dropped, probably reflecting lower fuel costs.
The 1 percent increase in bookings followed a revised 4.7 percent decline the prior month, the Commerce Department reported today in Washington. The median forecast of 61 economists in a Bloomberg survey predicted orders would climb by 1.5 percent. Demand for durable goods, those meant to last at least three years, rose 3.5 percent, while that for non-durables decreased 1 percent.
The increase in orders for durables probably means companies are looking beyond the slowdown in economic growth this quarter as housing rebounds and consumer confidence improves. At the same time, government cutbacks are restraining total demand and employment, which means the rebound will be slow to develop.
"The economy is gradually healing, and as we move through time you'll see manufacturing do better," Michael Moran, an economist at Daiwa Capital Markets in New York, said before the report. Moran, who is the second-best forecaster of factory orders in the last two years based on Bloomberg data, predicted a pick-up as the effects of fiscal tightening wear off. "I think what is happening, and what has to happen, is that we just finish the healing process that has been ongoing."
Estimates in the Bloomberg survey ranged from a drop of 0.3 percent to a 3.9 percent gain. The Commerce Department revised March's figure from a previously reported 4.9 percent decrease.
Companies hired fewer workers than projected in May as federal budget cuts and higher taxes stifled greater improvement in the labor market, another report showed today.
May Employment
Employment increased by 135,000 workers following a revised 113,000 gain in April that was smaller than initially estimated, the ADP Research Institute reported. Based in Roseland, New Jersey, the institute is a division of Automatic Data Processing Inc., a company that manages employer payrolls. The median forecast of 40 economists surveyed by Bloomberg called for a May advance of 165,000.
Payrolls expanded by 165,000 workers in April following a 138,000 increase in March, Labor Department figures showed last month. The jobless rate unexpectedly declined to a four-year low of 7.5 percent, the report also showed.
Data for May are due Friday, and economists surveyed by Bloomberg project payrolls rose about the same pace as in the prior month and unemployment was unchanged.
ISM Index
Today's Commerce Department data follow a report earlier this week that showed manufacturing slumped in May. The Institute for Supply Management's factory index fell to 49 last month, the lowest since June 2009, when the last recession ended. Fifty is the dividing line between growth and contraction.
The gain in bookings for durable goods, which make up slightly more than half of total factory demand, reflected increases in demand for airplanes, cars and machinery such as construction equipment, today's report showed. The increase was larger than the 3.3 percent increase the Commerce Department reported last week.
Aircraft orders climbed 16.9 percent in April after slumping 43.3 percent the prior month, today's figures showed. Chicago-based Boeing Co. said it had received orders for 51 aircraft in April, up from 39 in March.
In today's report, factory orders excluding transportation equipment decreased 0.1 percent in April after falling 2.8 percent in March.
Petroleum Bookings
The drop in orders for non-durables reflected a 4.6 percent slump in petroleum and coal products, today's report showed. Because bookings aren't adjusted for inflation they can reflect changes in prices rather than shifts in demand.
Bookings for capital goods excluding aircraft and military equipment, an indicator of future business investment, rose 1.2 percent in April after a 1.1 percent gain in March. The April advance was the same as reported last week, while March was revised up from the 0.9 percent increase previously reported.
Shipments of those goods, a measure used in calculating gross domestic product, dropped 1.3 percent after a 0.6 percent increase the previous month. That compares with the 1.5 percent drop and 0.5 percent gain for April and March reported in last week's durable goods report.
Today's figures on factory orders showed inventories climbed 0.2 percent in April after being unchanged the prior month.