Revived GM Welcomed Back Into the S&P 500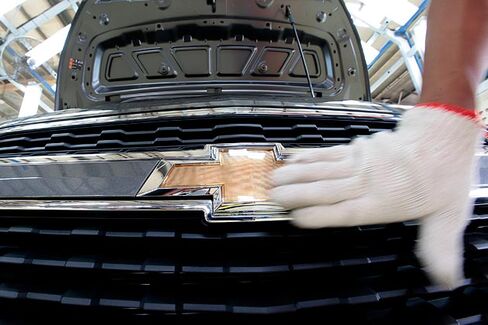 General Motors will again be included in the Standard & Poor's 500 this week, four years after the company was booted from the index. The top U.S. automaker will replace H.J. Heinz, which is being acquired by a consortium that includes Warren Buffett's Berkshire Hathaway. GM would be the 79th-biggest company in the index, which has $5.58 trillion benchmarked to it.
The inclusion is a critical milestone for GM, which filed for bankruptcy in 2009 and received a $49.5 billion government bailout. The automaker came back with an initial public offering in November 2010, and last month its shares topped that deal's price for the first time in two years. GM has been profitable every quarter since it returned to the public markets. Lately, it can't seem to keep enough Cadillacs on the lot. Through May, that brand's sales jumped 38 percent to 69,750, the biggest year-to-date increase since 1976, when sales jumped 45 percent to 135,258.
"Think about that," Kurt McNeil, GM's vice president in charge of sales operations, said on a Monday conference call. "We're talking about the days of disco, when Cadillac was strictly a U.S. brand back then, not one that's directly challenging the German luxury brands and gearing up to triple its sales in China over the next couple of years."
GM still has to wrest back its full independence from Washington. The Department of the Treasury held 241.6 million shares as of April 1, good for a 16.4 percent stake. Treasury said in December that it plans to sell its entire GM position within 15 months after the company bought $5.5 billion of its stock, or 200 million shares, from the government. The percentage of GM shares available to the public has increased to at least 56.2 percent this year, from 44.5 percent at the beginning of 2012, according to data compiled by Bloomberg. A minimum of 50 percent is required for companies to be considered for S&P 500 inclusion.
"The GM team has been working very hard to earn the business of customers around the world and to win the confidence of investors, and rejoining the S&P 500 shows we're very much on track," Chief Executive Officer Dan Akerson said in an e-mail. But GM remains an ex-member of the Dow Jones industrial average, the blue chip index that removed the longtime component on the day it filed for bankruptcy protection in 2009. It remains to be seen if the country's top automaker and its most headline-cited equity gauge have what it takes to forgive and relist.
Before it's here, it's on the Bloomberg Terminal.
LEARN MORE