Khamenei Urges High Turnout in Iran Presidential Election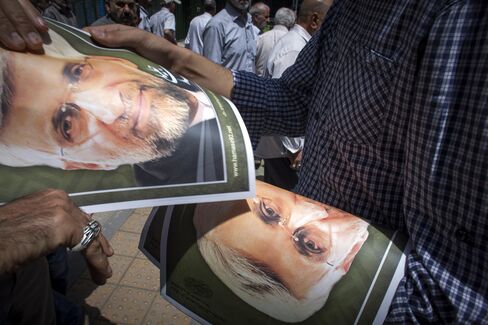 June 4 (Bloomberg) -- Iran's Supreme Leader Ayatollah Ali Khamenei called on all Iranians to take part in next week's election to create a "political epic" and confound what he called Western efforts to "manipulate" the presidential race.
The objective is "to have people's glorious presence at ballot boxes," Khamenei said in a speech outside the Iranian capital today aired live on state television. "Whoever you vote for, it will be a vote for the Islamic Republic, you will be indicating your trust in the political system."
The presidential election on June 14 will be the first since the 2009 vote, which sparked street protests amid allegations that Mahmoud Ahmadinejad's re-election was the result of ballot fraud. Iranian officials have accused Western powers of spearheading the "sedition" that led to nationwide protests for days and resulted in the arrest of thousands.
Today Khamenei was addressing a crowd of supporters gathered for the annual ceremony commemorating the death of Islamic Republic founder Ayatollah Ruhollah Khomeini. He attacked Western nations, saying they aimed to undermine the government by discouraging Iranians from displaying support for their leaders.
"Our enemies overseas, those miserable enemies, want to threaten the Islamic establishment," Khamenei said. "They want to prevent a massive turnout, they want to pretend that people have no interest."
Candidates Vetted
With divisions within the ruling elite peaking in the last year of Ahmadinejad's presidency amid increased economic pressure born from international sanctions, top officials have said securing security and unity are priorities.
Candidates were chosen from a list of more than 650 would-be presidential runners by the Guardian Council based on their qualifications and loyalty to the Islamic Republic. Most of the eight candidates approved to run this time are Khamenei loyalists, including Ali Akbar Velayati, the supreme leader's foreign policy adviser, and nuclear negotiator Saeed Jalili. Ahmadinejad can't run for a third time in this month's contest.
Khamenei said he had no favorite among the candidates participating in the race.
Ali-Akbar, a farmer who traveled along with his family from the southeastern Kerman province to attend today's ceremony, said though undecided on who to pick he was sure to cast his ballot.
'Vote Khomeini'
"I will vote for Khomeini and for our Supreme Leader," said the 62 year-old, who didn't want to give his last name because he was uncomfortable speaking to a foreign media organization. He said he would choose a "pious" person who would "resist our enemies."
The absence of some of Iran's most high-profile pro-reform politicians from the ballot and the exclusion of former president Ali Akbar Hashemi Rafsanjani, who was barred from standing, have tempered some of other voters' engagement.
"People are not excited about participating in the election," said Peiman, 34, an airplane technician interviewed at a Tehran roundabout and who declined to give his surname. "Even the appearance of our city reflects that election is not the most important topic in people's everyday life.''
Unlike the previous presidential election four years ago, when candidates' posters adorned streets of the capital at every turn, pictures of the candidates are now mostly spotted close to their election headquarters. Ten days ahead of vote day, campaign leaflets and street meetings are rare, Tehran residents said.
To contact the reporter on this story: Ladane Nasseri in Dubai at lnasseri@bloomberg.net
To contact the editor responsible for this story: Andrew J. Barden at barden@bloomberg.net