Apple to Increase Headcount in Cupertino by 46% in 2016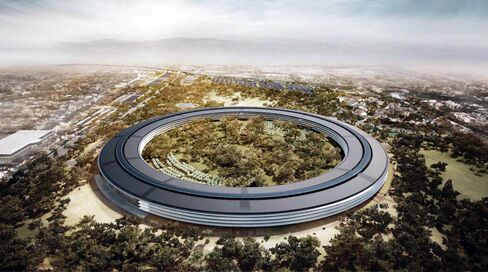 June 5 (Bloomberg) -- Apple Inc. plans to boost its employee count by 46 percent to 23,400 in its hometown of Cupertino, California, paying out $2.9 billion in annual wages by the time a massive new headquarters is completed in 2016.
The maker of iPhones and iPads estimates that the project, which has already been delayed, will generate $38.1 million in one-time construction taxes and fees for the city, as well as boost construction and local jobs, according to an 82-page report dated May 2013 on the new headquarters' economic impact.
The plan, one of co-founder Steve Jobs's last projects before his death in 2011, calls for a donut-shaped, 2.8 million square-foot main building that's two-thirds the size of the Pentagon, featuring curved 40-foot exterior walls made of concave glass from Germany. While Apple commissioned the report at the request of the city, it also fits with an effort initiated by Jobs to gain approval for the 176-acre campus.
Taxes paid by Apple generated 18 percent of Cupertino's general fund in 2012, according to the report, which was prepared by consulting firm Keyser Marston Associates Inc.
Apple would add 6,000 trees and hide almost all the roads and parking spaces underground. The company is also investing an additional $66 million on public improvements, including traffic intersections, bicycle lanes, park land and a $2.5 million contribution to affordable housing, the report said.
The city council will review another report, assessing the environmental impact of the project before approval is granted, Aarti Shrivastava, Cupertino's director of community development, said in an interview earlier this year. The city's government will probably hold hearings on Apple's plan later this year, she said.
Campus 2
Jobs presented plans for the new site, dubbed Campus 2, in June 2011, in what turned out to be his final public appearance before he died that October. At the time, Jobs sought a completed headquarters in 2015. It was later delayed to 2016, caused in part by an effort to cut $1 billion from a budget that had ballooned to more than $3 billion, according to three people familiar with the situation, who asked not to be identified becuase the plans are private.
In its analysis, Keyser Marston Associates assumed an assessed value of $3.5 billion for the campus.
Apple probably won't face much opposition from Cupertino residents, Shrivastava said. Apple's current 16,000 employees represent 40 percent of the city's jobs, according to the report. While Apple predicts that an additional 7,400 employees will be working at the new campus in 2016, the facility will have enough space for an additional 13,000.
The average salary of Apple's employees is "significantly higher" than the $124,000 average salary of a computer software engineer in Silicon Valley, according to the report.
To contact the reporter on this story: Peter Burrows in San Francisco at pburrows@bloomberg.net
To contact the editor responsible for this story: Tom Giles at tgiles5@bloomberg.net