Czech Rainfall Kills Two, Raises Flood Alert in Prague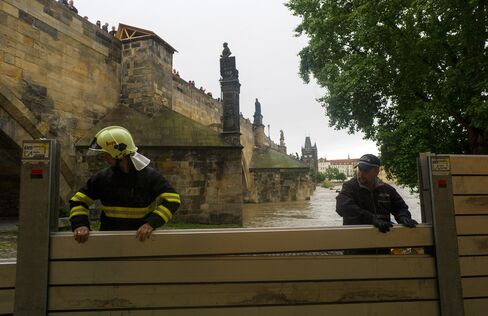 Torrential rainfall in the Czech Republic left two dead and two missing as authorities mobilized to fight floods that closed rail lines, forced hundreds to flee and threatened to inundate Prague for the first time since 2002.
Prime Minister Petr Necas called a state of emergency in all but one Bohemian region, allocated $15 million in immediate aid and put hundreds of firefighters and soldiers to work on rescue duty. Metal anti-flood barriers were erected along the Vltava, including Prague's Kampa neighborhood at the Charles Bridge. Officials also closed part of the subway, limited gas and power supplies in some districts and emptied a downtown hospital near the riverside.
"I want to emphasize that we have ahead of us a very critical night, and a very critical day tomorrow," Necas said after meeting emergency personnel. "We are dealing with forces of nature and not everything can be precisely predicted.'
Days of late-spring stormy weather are raising the specter of a repeat of the 2002 floods that crippled Prague, paralyzing the subway system for weeks and costing the city more than 24 billion koruna ($1.2 billion) in damage. Whole neighborhoods, such as the riverside Karlin and Mala Strana districts, were left under water 11 years ago, while animals drowned in the Prague Zoo.
Transport Restrictions
''We announced a state of emergency in Prague,'' acting mayor Tomas Hudecek told a news conference. ''We are putting in measures to restrict public and car transportation tomorrow and asking people not to travel to Prague if it's not necessary as the situation is very complicated.''
The city already closed nine stops on the underground Metro system, including the Old Town and Mala Strana stations, officials said. About 100 people in Prague have been evacuated in preparation for cresting rivers, local municipalities reported, according to state television news station CT24.
The army and fire brigades are working to protect the Karlin and Mala Strana neighborhoods, among the heaviest hit by floods in 2002, with metal walls seated along the river to protect the most historic and picturesque parts of the city.
The memory of 11 years ago, when waters rose above the ground floors of hundreds of apartment buildings and stores, leaves residents nervous about the possibility another flood.
Jaroslav Tuma, 35, owner of a small gallery selling hand-made souvenirs in a narrow street 100 meters (109 yards) from the river in Mala Strana, pointed to a mark on the wall about six feet high showing the flood level from 2002.
'Move Quickly'
''I was quite calm until today, thinking the floods from a decade ago can't happen again,'' said Tuma. ''Well, I'm looking outside more often now. I'm not packing my stuff yet, but will have to move quickly when I see the water breaking out from the sewages."
An unidentified woman and a man died today in Trebenice, a village some 30 kilometers outside from Prague, when heavy water seepage undermined the foundation of a summer cottage, causing the wooden building to collapse, fire brigade spokeswoman Nicole Zaoralova said by phone. Police were also looking for two missing boaters, she said. Five people around the country had to be rescued by helicopter, Zaoralova said. She couldn't verify information that some were missing.
As much as 30 millimeters (1.2 inches) of rain will pound the country by this evening, with most of Bohemia taking the brunt, according the state weather service. An additional 15 millimeters will fall by tomorrow, the service said.
Rain Forecast
In the northern region of Silesia, 35 millimeters will fall through tomorrow and many rivers have exceeded the higher level of flood activity, the service said.
This weekend, authorities issued flood warnings in Prague, Plzen, the home of SABMiller Plc's Pilsner Urquell brewery, and surrounding regions.
On the Vltava, the river that bisects Prague, the water level has triggered the third and highest stage of alert, said Iva Vojtkova, a spokeswoman for the Mayor's office.
At the Cisarsky Ostrov island near the Prague Zoo, onlookers watched firefighters raise barriers. Cars wound their way along the roads, some of which were already under water. Local horse-riding and dog-training clubs evacuated all the animals in the morning before their facilities became flooded.
Zoo Readiness
Zoo director Miroslav Bobek, who attended a city hall meeting today, said workers may begin evacuating cages in the attraction's lower level to avoid a repeat of the 2002 disaster, when flooding killed animals including an elephant that had become trapped in a pen as water rushed in.
The third stage of alert has been called in five areas of central Bohemia, Novinky.cz reported. Mountain river runoff flooded village homes west of Prague. In Beroun, about 30 kilometers (19 miles) southwest of Prague, authorities evacuated a retirement home at midnight and shut off electricity at the town's flooded bus station.
In Prague, police closed a highway ramp in the southern part of the city and several roads leading out of town because of the flooding, according to iDnes.cz. A tree fell in front of a commuter train, blocking the line that leads to the suburban communities of Kladno and Rakovnik.
South of the capital, the road leading into Cesky Krumlov, a Unesco-protected medieval city, was closed at the Eggenberg brewery, iDnes said.
Before it's here, it's on the Bloomberg Terminal.
LEARN MORE