Spoiler Alert! Movie Theater Owners Want Shorter Trailers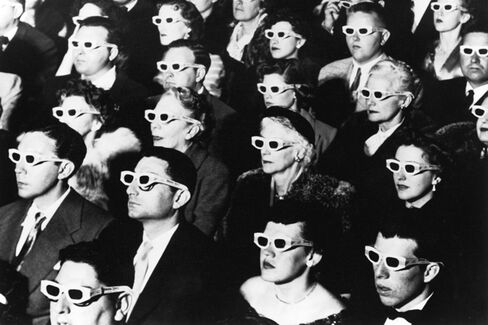 It's not the epic running times of summer blockbusters that bother movie theater owners. No, it's those two-and-half-minute trailers that are testing their patience and possibly driving down ticket sales.
The National Association of Theater Owners (yes, the other NATO) wants to shorten the standard length of trailers by 30 seconds, creating a new two-minute maximum for most of the previews shown before a movie. The trade group also wants to reduce the window during which those trailers can appear to within four months of a film's opening and attach the release date to all marketing materials. Currently, studios can promote a film via trailers a year or more before its eventual release.
The proposed changes, first reported by the Hollywood Reporter, are based on the notion that current trailers spoil some movies' plots and hurt ticket sales. "I used to love the trailers, then after seeing Iron Man 2 and realizing that I had seen THE ENTIRE MOVIE in the trailers, I quit watching them," wrote a commenter on the Hollywood Reporter's website. The French, too, saw a potential problem and have reportedly added this notice before some trailers: "In order to ensure that its various plot elements and surprises remain unrevealed, this trailer is only based on the first half of the film."
The Motion Picture Association of America sets the trailer length and allows each studio to have one three-minute trailer per year, which is reserved to promote the biggest films. The group declined to comment Friday.
Given the proliferation of movie trailers online—with dozens available anywhere from Apple's iTunes to Hulu to Amazon to Yahoo!, as well as scores of other sites—it's curious that the trailers shown after the local advertising and before the film can still stoke so much attention from moviegoers. But apparently they do.
There may be some merit to the theater owners' argument, especially for the breed of Hollywood blockbusters hyped with massive advertising budgets and multiple trailers, all with carefully orchestrated release dates. Last summer, some enterprising soul who goes by the online moniker Sleepy Skunk (and who presumably never sees daylight) compiled all 25 minutes of The Amazing Spider-Man that Sony Pictures had released as trailers and edited them into a single video, aiming to tell the film's story.
The point? That it's possible to discern enough of a film's plot, dialogue, and acting to make spending $10-$13 for a ticket seem silly. If a movie is awful, theater owners want you to reach that conclusion after you've pried your shoes off their sticky floor and headed to a bar with friends.
Before it's here, it's on the Bloomberg Terminal.
LEARN MORE