Ibovespa Slumps to Six-Week Low as Brookfield Declines on Rates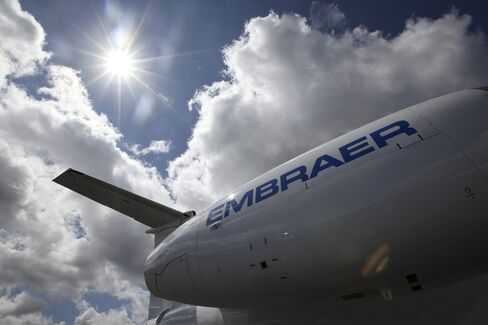 The Ibovespa fell to the lowest level in six weeks as Brookfield Incorporacoes SA led a decline in homebuilders after policy makers raised Brazil's target lending rate more than forecast.
Nineteen of the BM&FBovespa Real Estate index's 20 members slumped as the gauge dropped the most in two years. B2W Cia. Digital sank the most among retailers. Some exporters including planemaker Embraer SA gained as the real fell for a fifth day even as the central bank announced the first intervention in the currency market since March.
The Ibovespa slumped 2.1 percent to 53,506.08 at the close of trading in Sao Paulo. Fifty-eight stocks fell on the gauge while 12 rose. Brazilian markets were closed for a holiday yesterday. The benchmark lost 4.3 percent in May, its fifth consecutive monthly drop. The real fell 1.3 percent to 2.1411, the lowest since May 2009, even as the central bank auctioned currency swap contracts to try to stem the currency's decline.
"There's no sector more correlated with interest rates than homebuilders," Fernando Goes, an analyst at Sao Paulo-based Clear Corretora, said by phone. "The stronger dollar is good for exporters but muddles the macro scenario, as it has a direct impact on inflation."
The central bank's board voted unanimously on May 29 to raise the benchmark rate by a half-percentage point to 8 percent even as first-quarter growth trailed estimates. The decision surprised 38 of 57 economists surveyed by Bloomberg, who had expected a second straight increase of a quarter-percentage point. The remaining 19 correctly forecast the half-point increase.
Brookfield, Rossi
Brookfield sank 9.6 percent to 1.69 reais. Rossi Residencial SA dropped 9 percent to 3.45 reais. Gafisa SA fell 6.6 percent to 3.81 reais. The BM&FBovespa Real Estate index declined 4.5 percent.
B2W tumbled 7.9 percent to 9.95 reais. The MSCI Brazil/Consumer Discretionary Index dropped 4.2 percent to the lowest since August.
Embraer SA gained 2.9 percent to 19.54 reais. Speaking to reporters in Brasilia on May 29 after the release of the first-quarter gross domestic product, Finance Minister Guido Mantega said a weaker real can boost exports.
"Other tools exist to combat inflation," he said. "This is an international shift, and there's no reason we should be different."
Common shares of Petroleo Brasileiro SA rose 1.3 percent to 18.97 reais. The state-controlled oil producer said its total output rose 2.7 percent in April from March after resuming production at three platforms that had been shut down for maintenance.
Brazil Inflation
Brazil's annual inflation accelerated for nine straight months through March to 6.59 percent, above the top of the central bank's target range of 2.5 percent to 6.5 percent, before easing to 6.49 percent last month. The central bank said in a statement that its decision will help slow price increases and "assure that this trend will persist next year."
The Ibovespa has declined 12 percent this year, underperforming emerging markets including China, Russia and India, amid concern quickening inflation will curb the nation's economic recovery. Brazil's main equity index trades at 12.7 times analyst earnings estimates for the next four quarters, compared with a multiple of 10.6 for the MSCI Emerging Markets Index of 21 developing nations' equities, data compiled by Bloomberg show.
Trading volume for stocks in Sao Paulo was 12.7 billion reais, data compiled by Bloomberg shows. That compares with a daily average of 7.67 billion reais this year through May 29, according to data compiled by the exchange.
Before it's here, it's on the Bloomberg Terminal.
LEARN MORE