Death of the Bond Bull—Violent or Velvet?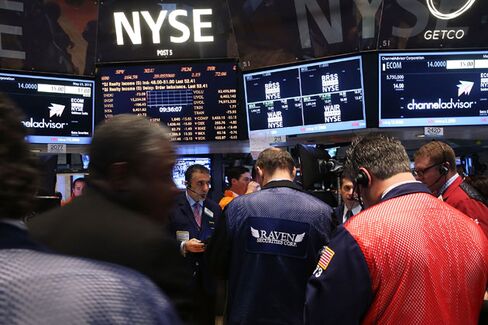 With traders nervous that the Federal Reserve will scale back its debt-buying campaign en route to ending stimulative monetary policy, U.S. debt posted its steepest monthly loss since December 2009. Ten-year Treasury yields are above 2 percent, up from a record low of 1.38 percent last summer. Securities in the Bank of America Merrill Lynch Global Broad Market Index have fallen 1.5 percent in May, their worst showing in nine years.
May's bond swoon has transpired as stocks have ascended to all-time highs. As Paul Krugman explains, the strength of stocks and the dollar as bonds fall could be evidence that traders see a stronger economic recovery.
Some on Wall Street see a broader asset-allocation tipping point. "It's hard to believe that the greatest bond bull market in history will end without some bloodshed," Michael Hartnett, Bank of America's chief investment strategist, wrote (PDF) in a Thursday note, "Bubble, Bubble, Toil & Trouble." "Risks of a bond crash," he wrote, "are high."
Hartnett notes that less than seven years ago, housing was booming, Treasury yields were above 5 percent, and Lehman Brothers' share price was at $86. The collapse of that bubble led to six years of central banks around the world cutting rates 515 times, increasing global liquidity by $12 trillion and pretty much collapsing rates and boosting prices of all manner of fixed-income investments. That, too, could reverse. "History shows that major breakouts in equity markets tend to coincide with major inflection points in bond yields," Hartnett wrote.
Hartnett does hold out hope for an ideal outcome that he calls a "Velvet Rotation," where both bond yields and equities rise in an orderly fashion—à la the 1960s. Bank of America's bond strategists predict the 10-year yield will rise to 2.25 percent by yearend; its economists forecast the Fed will begin scaling back its $85 billion in monthly bond purchases in April 2014.
David Zervos of Jefferies doesn't see a particularly orderly transition. "I would argue that the real bull market in equities can only take place AFTER the devastation in fixed income," he wrote on Thursday (his caps).
Zervos explains that in the current post-crisis environment, investors have been earning a "healthy 5 to 7 percent" in fixed income funds. "Capital gains and increased reliance on weaker credit/more structure have allowed these investors to earn reasonable returns and feel safe. Why take the equity risk when all is good in fixed income, right? Well, that is a mirage—it's 100 percent wrong. These fixed income portfolios are THE MOST DANGEROUS ones out there. … The repricing of these risks will lead to a … rout that will send investors running for the equity markets."
Before it's here, it's on the Bloomberg Terminal.
LEARN MORE