Thunderbird Alumni Fear Partnership Will Devalue Their Degrees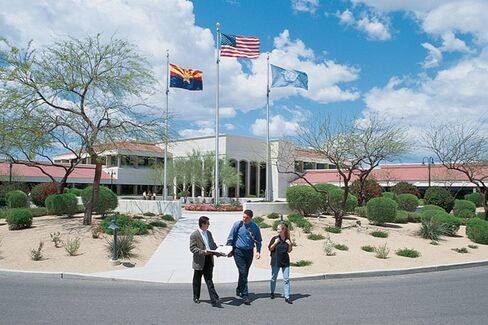 Nearly 2,000 people signed an alumni petition opposing a partnership between the Thunderbird School of Global Management and for-profit Laureate Education, calling it "a selling out of the Thunderbird name [that will] cheapen the value of the degree."
Thunderbird announced the Laureate partnership in March, saying it would allow the Glendale (Ariz.) business school to offer programs around the world, expand its online and executive education programs, and offer an undergraduate business degree for the first time in more than 50 years.
The alumni petition calls the partnership "short-sighted and ill-advised," adding that it will cause "permanent and irreparable harm to the Thunderbird brand, ranking, and academic reputation." Thunderbird's full-time MBA program is ranked No. 45 in the most recent Bloomberg Businessweek ranking and No. 88 by U.S. News & World Report.
The for-profit education industry has been the target of numerous allegations concerning recruiting practices, instructional quality, and the ability of graduates to find jobs, the petition notes. It adds that Laureate's U.S. flagship school, Walden University, was cited in a two-year U.S. Senate investigation of the industry for earmarking far more money for marketing and profit than for instruction.
"'We are known by the company we keep,' goes the adage," the petition says. "We are deeply concerned that by aligning with Laureate Education … sixty-plus years of brand-building will be lost in one fell swoop."
The petition, which calls on Thunderbird to suspend the partnership, was started by Ben Piper, a 1996 MBA alum who now works in market research. In an interview, he said he started the petition after the March announcement, which came as a shock to him and other alumni.
"It's a shockingly bad idea," he says. "How can an elite institution like Thunderbird team up with for-profit education? I get it that graduate business education is changing. … I understand there's a need for bold new ideas. My concern is really with the choice of partners."
In a statement, Thunderbird spokesperson Carol Sunnucks noted that Walden was actually singled out for praise during the Senate investigation, which cited its low student withdrawal and default rates.
"We believe strongly that the Thunderbird-Laureate partnership is a strategic one that will enable Thunderbird to realize its academic mission while providing financial sustainability over the long term," Sunnucks said. Thunderbird has set up a Web page with additional information about the partnership, including an open letter from Thunderbird President Larry Penley addressing alumni concerns.
A spokesman for Laureate, Matthew Yale, says the portrayal of Laureate in the petition is inaccurate, adding that the company's global network includes 70 schools, "each one focused on meeting the needs of its local community and committed to positive outcomes for its students."
Join the discussion on the Bloomberg Businessweek Business School Forum, visit us on Facebook, and follow @BWbschools on Twitter.
Before it's here, it's on the Bloomberg Terminal.
LEARN MORE