Japan Exchange to Top Profit Forecast on Volume, CEO Says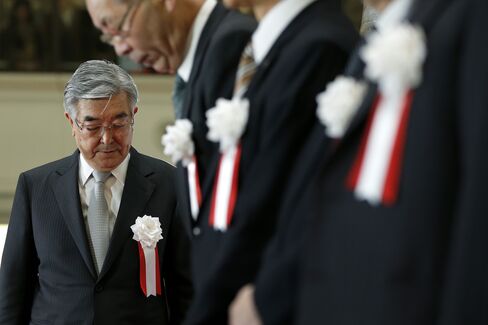 Japan Exchange Group Inc., operator of the biggest bourse outside the U.S., is on track to beat a profit forecast released last month as trading surges to a record, Chief Executive Officer Atsushi Saito said.
Saito, declining to give a figure, said profit should grow after the value of shares traded on the Topix index spiked to 5.8 trillion yen ($57.5 billion) on May 23, the highest ever. The daily average value of transactions has been about 3.4 trillion yen since April 1, according to data compiled by Bloomberg. The exchange forecast on April 30 net income of 13 billion yen for the year through March 2014, up 19 percent from the previous year.
"Our forecasts were based on an estimate of 1.5 trillion yen in average daily turnover and we're getting about twice that," Saito said in an interview yesterday. "At the same time, we're holding costs at or below plan."
The exchange is benefiting from a rally that's made Japan this year's best-performing developed equity market. Average daily trading volume on the Topix index, the country's broadest stocks measure, surged to 3.9 billion shares since the end of December, compared with about 1.9 billion a year earlier, according to data compiled by Bloomberg. Turnover has averaged 2.7 trillion yen this year.
Japan Exchange climbed as much 5.2 percent before closing down 1.4 percent at 9,490 yen in Tokyo. The shares have jumped 140 percent since Jan. 4, when the company formed from the merger of the Tokyo and Osaka bourses started trading. Before earnings forecasts were released last month, analysts estimated net income of 23.4 billion yen for the current fiscal year.
The exchange on May 7 added 28 percent more server capacity, enough to handle 68 million orders a day, exchange spokesman Naoya Takahashi said. Orders reached 45 million on the exchange's Arrowhead trading system on May 24, he said.
"We still have a buffer," Saito said. "But we may have to add capacity before carrying out planned upgrades to the Arrowhead system in fiscal 2015."