Microsoft Xbox One TV Focus Has Core Gamers Seeking More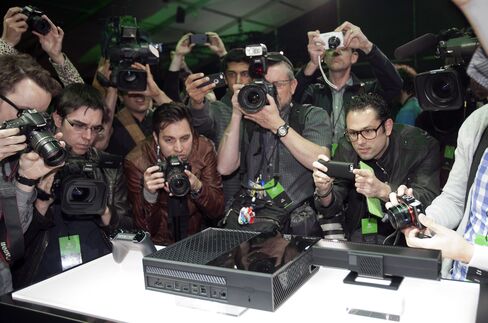 May 29 (Bloomberg) -- Microsoft Corp. crammed the new Xbox One with something for everybody. One constituency says it got short shrift: the die-hard players who tend to spend most on high-end action-packed titles.
That's stepping up pressure on Microsoft, now preparing for E3, the gaming industry's annual conference in Los Angeles, to introduce a lineup better suited for the gamers who help fuel the $67 billion video-game market. Facing new competition from Apple Inc., Google Inc. and Amazon.com Inc. for consumers' time in the living room, Microsoft will also have to deliver titles that can contend with new software and consoles from longtime rivals Sony Corp. and Nintendo Co.
"It is critical for Xbox One to attract hard-core gamers," said Liam Callahan, an analyst at NPD Group Inc. based in Port Washington, New York. "While Microsoft clearly focused on what Xbox One can do outside of gaming, they are using E3 to speak to the hard-core audience."
Microsoft said the first Xbox event held at its Redmond, Washington, headquarters was focused on the machine's broad entertainment capabilities, including personalized programming recommendations for families and a fantasy-football application for gridiron fans. The bulk of new games will debut at E3, which runs from June 11 to 13, Microsoft said.
"It will be clear on June 10 that Xbox One is going to be the home to the biggest and best games of the current and next-generation platforms," Letty Cherry, a spokeswoman for Microsoft, said in an e-mailed statement. Game companies usually unveil their top offerings ahead of the annual expo.
Serious Machine
Stuart Bridson, a resident of Manchester, U.K., who owns an Xbox 360 and a PlayStation 3, is just the kind of audience Microsoft needs to wow.
"I'll be watching E3 intently, as Microsoft needs to quell the public pressure by demonstrating some actual games," Bridson said. "Above all else, they need to show some games to show that the One is a serious gaming machine, and not just a multimedia device which happens to play games."
Sony focused more on games at a February event to unveil the PlayStation 4. While the machine's specifications and features appealed to game developers and hard-core gamers, it also left Sony open to some criticism that the company wasn't pushing far enough in the wider entertainment space, according to Brian Blau, an analyst at Gartner Inc. in San Francisco.
Neither Sony nor Microsoft have announced prices for their new consoles. The current Xbox sells for $200 to $300.
Entertainment Hub
There's good reason for Microsoft and its peers to broaden the appeal of their consoles, targeting families and the consumer-entertainment market. Sales of packaged games are declining in the U.S., and there's growing competition from casual games played on the Web and on mobile devices.
At an event May 21, Microsoft showed how Xbox One can control live television, allow users to view programs and rapidly switch applications, games and shows using voice commands.
The machine's Kinect sensor recognizes users and loads recommendations and the last five things they were doing. Users can see what shows and games are popular and what their friends are doing. Xbox One includes a custom-built eight-core processor by Advanced Micro Devices Inc., with 8 gigabytes of memory to speed up functions, and a combined graphic chip.
Xbox One reflects a focus on building the best machine for gaming, Don Mattrick, president of Microsoft's interactive entertainment business, said in an interview.
"We thought, 'OK, clean sheet of paper, new architecture, what are you going to design?'" he said. "We want to make the best hard-core gaming box, great, how do you do that?"
Independent Developers
The number of hard-core gamers is about 10 million, according to Peter Molyneux, a veteran game developer who worked for Microsoft after the software company purchased his Lionhead Studios. That's eclipsed by hundreds of millions of people playing games on mobile devices, he said.
Microsoft needs to show that beyond sequel titles and its own new games, it can woo independent developers to deliver games that appeal to a wide audience, said Kevin Wong, a gamer in his second year at the University of Southern California.
"A lot of the movement in the industry, though, is toward independent developers and that's going to be key to the success of this generation of consoles," Wong said.
There's also some consternation among gamers about the ability to buy and sell, or share, used games. Microsoft issued a statement last week saying it's "designing Xbox One to enable customers to trade in and resell games" and that more details would be shared later.
Early Adopters
As demand for personal computers wanes, the Xbox is one of Microsoft's better-performing businesses. Sales in the entertainment and devices unit, including Xbox, rose 56 percent in the latest quarter to $2.53 billion. Underscoring the changing fortunes for companies at the intersection of software and consumer electronics, Microsoft shares have risen 24 percent over the past five years, compared with Sony's 58 percent slump.
Fanatical gamers matter because they're vocal, Blau said. As early adopters, they buy consoles as soon as they come out. While many will eventually buy a second console later in the cycle, which one they buy first matters for game sales and in setting trends. Such consumers spend 140 percent more on games than the average buyer, according to NPD Group.
Exclusive Titles
"I'm a real believer that first, second and third areas of focus are about the game," John Riccitiello, who was CEO of Electronic Arts Inc. until March, said in an interview earlier this month. "At least for the console business, the gamer is what carries the industry, and that the gamer needs to be well supported, because they've been left without a hardware choice for nearly a decade."
Microsoft said it plans 15 exclusive titles in Xbox One's first year, with eight of those from new franchises. The company has already shown two -- a sequel to the Forza Motorsport franchise and a new game called "Quantum Break." Games made only for one console are critical because, if they're successful, they can boost hardware sales.
"The only thing that really matters is that gamers are happy when they can actually go out and buy one of these things," said Michael Pachter, an analyst at Wedbush Securities Inc. in Los Angeles.
Among sports titles, Electronics Arts said there would be exclusive content for Xbox. Activision Blizzard Inc. gave the first look at the new "Call of Duty: Ghosts," the latest in a franchise that's the top seller on Xbox. Downloadable content for that game will also come to Xbox before PlayStation 4, Activision said.
Games First
Microsoft, which entered the console market in 2001, has proved before that it can appeal to hard-core gamers. The company challenged Sony's PlayStation 2 with titles such as "Halo" and Ubisoft Entertainment SA's "Tom Clancy's Splinter Cell." Microsoft was a pioneer in hardware and services that let players connect to the Internet and interact amid play.
"Microsoft in the past has been first and foremost about gaming and satisfying that core audience," said Ben Bajarin, an analyst at Creative Strategies Inc.
Now Microsoft pledges to show games at E3 that are equally appealing to frequent gamers.
"If Microsoft doesn't deliver on its promise, the negative sentiment that started will only get louder," Blau said.
To contact the reporters on this story: Dina Bass in Seattle at dbass2@bloomberg.net; Cliff Edwards in San Francisco at cedwards28@bloomberg.net
To contact the editors responsible for this story: Tom Giles at tgiles5@bloomberg.net; Anthony Palazzo at apalazzo@bloomberg.net