Building a Case for a Microsoft Shakeup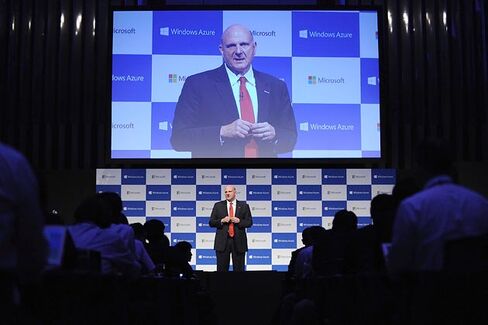 Rick Sherlund, Nomura Securities' software analyst, clearly thinks something's up with Microsoft. He is a longtime, respected Microsoft watcher—first at Goldman Sachs and now at Nomura—so when he puts out a research note saying something's new, even if he's a little coy about what that might be, it's worth noting. Sherlund also boosted his price target for Microsoft to $38 per share, from $32, while retaining his neutral rating on the stock. Hmmm.
Here are some veiled semi-, sort-of predictions Sherlund put down in a research note released very early Tuesday morning:
• Restive shareholders gain power: Sherlund thinks shareholders are gaining steam in their demand for a greater voice in the company's strategic direction. There "may be a more receptive group of frustrated shareholders to leverage in an effort to drive greater realization of shareholder value at Microsoft," he wrote.
• Microsoft could exit search. It could hand search off to Facebook or Yahoo! in return for traffic acquisition costs, Sherlund wrote. Microsoft Bing has gained some ground on Google but remains a distant second. The latest Comscore numbers showed Bing with a record 17.1 percent of U.S. searches in April, up from 16.9 percent in March. Google's share fell from 67.1 percent to 66.5 percent over the same period. Whether Microsoft's gain is worth what the company spent on its BingitOn campaign is subject to debate, however.
• It could (gasp) dump Xbox. Sherlund acknowledges that we like to play Xbox, but "it doesn't seem like a good enough business for Microsoft to focus on." He goes on to explain that at one point it was critical for Microsoft to "own the consumer connection to the internet"—i.e. the console—but as cool as it is, it's not material to Microsoft's broader business. More importantly, he thinks someone—Samsung, say—might pay a couple of billion dollars for that business.
• It could simply pay off disgruntled investors. They want dividends. Microsoft could sweeten the pot, potentially doubling the dividend "to yield about 6 percent by providing tax on current foreign source income," Sherlund wrote.
One thing is clear: Microsoft shareholders are one unhappy bunch. Looking at the post-bubble burst over the past 13 years, the stock price is basically flat—it peaked at around $37 and has bounced between that and $20 for much of that time.
That's led to some very loud calls for Chief Executive Steve Ballmer to head for the door—something Ballmer shows no intention of doing. Dow Jones Newswire's Al Smith helpfully published Ballmer's Epitaph earlier this month, citing Windows 8 as a "bet the farm" gamble that didn't pay off. The contention that Windows 8 is a failure has been repeated in several news outlets and is something Microsoft's top corporate communications guy couldn't let pass. In a blog post, Frank Shaw responded that Windows 8, which has sold 100 million copies, is hardly a failure—and linked to two positive reviews.
But back to Sherlund. He senses something different in the air when it comes to Microsoft's corporate governance:
"We think there is a shift in the wind upcoming for Microsoft, with shareholders likely demanding a greater say in the direction of the company and how it might be run to drive a better return to shareholders."
Now we'll just have to wait and see.
Also from GigaOM
Amazon Targets Microsoft Enterprise Users With System Center Integration (subscription required)
Why Apple, Tim Cook, and the Tech Industry Need Something New to Talk About
Online Video Will Be More Popular Than Facebook and Twitter by 2017
Amazon Spreads Net Wider By Federating Facebook and Google (and AWS) Identities
Tesla Crosses the $100-Per-Share Mark
Before it's here, it's on the Bloomberg Terminal.
LEARN MORE