The Samsung Galaxy S4 Mini Is Coming, and Quickly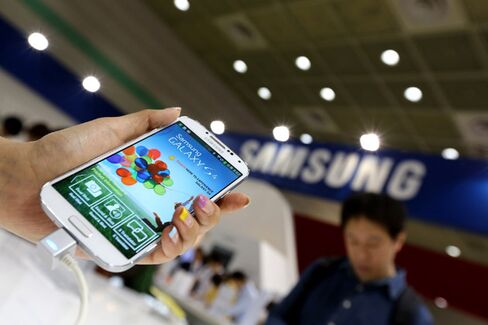 On June 20, Samsung will be holding an event in London to show off some new products. One of those will likely be the Galaxy S4 Mini, a slightly smaller version of the company's flagship smartphone.
Unveiling the Mini in London makes sense (and not just for automotive reasons), as European customers were able to buy a Galaxy S3 Mini during the previous product cycle. But in an interview with Bloomberg Businessweek earlier this year, Samung Mobile's marketing chief said that a miniature version of the S4 will be sold in the U.S. as well.
The Mini's an interesting example of how Samsung works. When the Galaxy S3 came out in May of 2012, it wasn't clear that the phone's considerably larger display would be a hit. And in certain corners of the world—and demographic segments—there was resistance. "Our research showed that some customers, particularly some female customers, found the size of the phone to be too large," says Samsung Mobile marketing chief D.J. Lee. By November 2012, Samsung had completed development of a smaller version of the same phone and brought it to market.
There are two things about that story: The first is that Samsung pays very close attention to what its customers are saying. It spends large amounts of time and money studying its customers around the globe. Attend a Samsung event and you will hear phrases like "we listen to our customers," "we pay very close attention to what the customer wants," "we've done extensive research." Identifying a gap in the market and filling it is something Samsung has become very good at doing.
The second thing about the S3 Mini is the time it took Samsung to create it: around five months. Given the vast and vertical nature of its manufacturing operation, Samsung may be the only tech company capable of this kind of rapid deployment.
Market research has a bad rep these days. It's the opposite of visionary inventiveness, best summed up by the now famous Steve Jobs quote, "You can't just ask customers what they want and then try to give that to them."
But there's a second part to that quote. Jobs continued, "By the time you get it built, they'll want something new." If you're Samsung, you can identify what people want and get it to them in a matter of months. The Galaxy S3 Mini came out five months after the Galaxy S3; the Galaxy S4 Mini will come out less than two months after the Galaxy S4. If your research is good enough, and your manufacturing operation is fast enough, you may be able to circumvent Jobs's paradox. Industrially speaking, Samsung is quickly becoming the first manufacturer to operate in real time.
Before it's here, it's on the Bloomberg Terminal.
LEARN MORE