EU Urges Lifting Hungary Budget Shackles in Orban Victory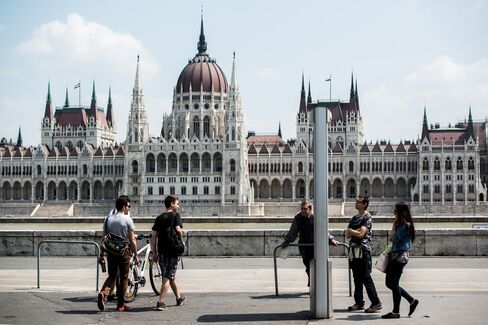 The European Union's executive arm recommended releasing Hungary from a budget monitoring process that's been in place since the country joined the bloc in 2004, marking a victory for Prime Minister Viktor Orban.
Accounting for recently announced fiscal measures, the commission projects this year's budget deficit at 2.7 percent of economic output, widening to 2.9 percent in 2014. That's less than forecasts it made earlier this month for shortfalls of 3 percent and 3.3 percent and closer to the government's estimate of 2.7 percent gaps in each year. EU finance ministers may approve today's recommendations at a meeting next month.
Orban, who sacrificed growth to keep the budget shortfall within the bloc's limit of 3 percent of economic output, faces elections in 2014. He's made an exit from EU fiscal monitoring a priority to remove the threat of cuts in funding from the bloc, which accounts for 95 percent of infrastructure investments.
"The era in which there was debate between Hungary and the EU with regard to Hungarian economic policy is at an end," the government said in a statement. The acknowledgment "is a clear indication that Brussels has finally understood and accepted the path that Hungary has been following since 2010."
Forint Falls
The forint traded 1.3 percent weaker at 290.47 against the euro at 5:26 p.m. in Budapest after reaching 285.58 yesterday, the strongest in more than five months. The benchmark BUX stock index fell 0.8 percent to 19,326.35. The yield on government forint bonds due 2023 rose 15 basis points to 5.24 percent.
"This is good news for Hungary, at least in the short term, and will be lauded by Orban as evidence of Hungary's new-found fiscal prudence," Timothy Ash, a London-based analyst at Standard Bank Plc, said today by e-mail. "The question now is, with the excessive-deficit procedure lifted, will the government begin to loosen the fiscal purse strings."
The Cabinet's reliance on extraordinary industry taxes contributed to a recession last year and has been opposed by the EU for damaging growth prospects.
Policy Reward
"All being well, this afternoon there will finally be a reward" for the policy of Hungary's economy "standing on its own feet," Orban said today in Budapest. "This is the policy we have been pursuing for the past three years."
Hungary announced May 10 that it would freeze 92.9 billion forint ($418 million) of budget expenditures this year and next and said it's ready to save an additional 80 billion forint in 2014 to keep the deficit in check. Orban's office may cut a fifth of its staff, the MTI state news service reported today.
The government will introduce a new tax on advertisements, government spokesman Andras Giro-Szasz said today. If the EU ends the deficit procedure, Hungary probably won't need further steps to increase revenue and may scrap the proposed tax, Economy Minister Mihaly Varga told Inforadio yesterday.
The government last year backtracked on a pledge to cut a bank levy by half and introduced a financial-transaction tax to rein in the deficit. The EU and the International Monetary Fund had urged the country to ease the bank burden to boost growth after squeezing lenders to bolster the budget.
"Freeing Hungary from the excessive-deficit procedure would mean that potentially less new sectoral tax hikes are needed, which would be good for business sentiment," Annika Lindblad, a Helsinki-based analyst at Nordea Bank AB, said yesterday in an e-mailed note. A negative EU assessment would hit sentiment hard, she wrote.
Orban has argued that the economy will expand more than the European Commission's 0.2 percent forecast this year, allowing him to keep the shortfall within the bloc's limit.
The economy grew 0.7 percent from the previous three months in the first quarter, expanding for the first time since 2011. The Cabinet forecasts 0.7 percent growth this year, with Orban predicting an expansion of as much as 1 percent.