U.K. House Prices Rise Most in Six Years on London Demand Surge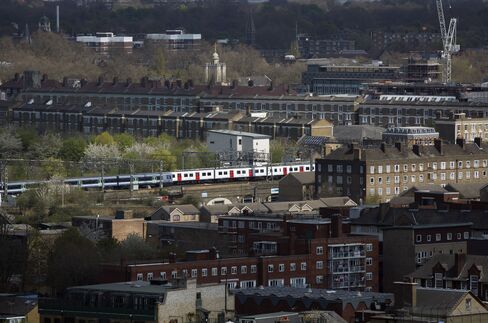 U.K. house prices rose the most in six years this month as a shortage of properties boosted values in London, according to Hometrack Ltd.
Average values in England and Wales increased 0.4 percent, the biggest monthly increase since May 2007, the London-based property researcher said in a report today. London prices jumped 0.9 percent. Demand in the capital has surged 15 percent in the past six months, while supply has fallen 0.6 percent.
"The impetus for rising house prices is originating almost exclusively from London and the southeast," said Richard Donnell, director of research at Hometrack. "Elsewhere housing market conditions are improving gradually, with prices trending slowly upwards."
A credit-easing program by the Bank of England and the U.K. Treasury has helped to ease lending conditions in recent months. Property demand may be further bolstered by plans announced by Chancellor of the Exchequer George Osborne in the budget in March to aid home buyers.
Osborne's latest move, known as Help to Buy, has drawn criticism, with the International Monetary Fund saying there must also be measures to boost the supply of housing.
"There is a risk that, in the absence of an adequate supply response, the result would ultimately be mostly house-price increases that would work against the aim of boosting access to housing," the IMF said last week. BOE Governor Mervyn King has said it "shouldn't become a permanent feature of our financial landscape."
Property Supply
The Hometrack report showed that demand for housing nationally rose at a slower pace in May, with new-buyer registrations growing 2.5 percent, compared with 3.1 percent in April. The supply of housing for sale increased 2.8 percent.
London supply rose 3.5 percent, though that wasn't enough to keep pace with a 5.6 percent increase in new buyers.
"While growth in buyer numbers is following a similar pattern to recent years, it is a lack of housing for sale that is acting as the primary driver of prices," Hometrack said.
Six out of 10 regions assessed by Hometrack showed price increases in May compared with the previous month. Four were unchanged. The area with the largest increase after London was the southeast with a 0.5 percent gain.
Before it's here, it's on the Bloomberg Terminal.
LEARN MORE