SeaWorld Opens Ice Palace for 230 Penguins With Blackstone Money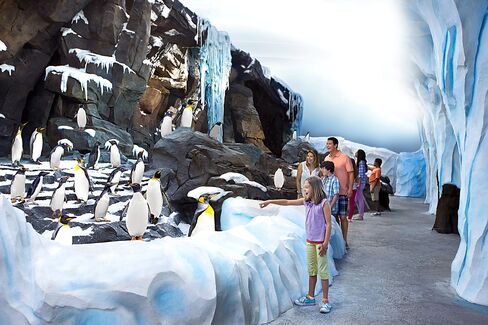 SeaWorld Entertainment Inc.'s Antarctica: Empire of the Penguin attraction, opening today at the company's namesake theme park in Orlando, features 50-foot glaciers, 2,500 glass icicles and up-close encounters with 230 penguins, dusted daily with 6,000 pounds of snow.
"It is the coolest attraction in the world," President and Chief Executive Officer Jim Atchison said in an interview. "You kind of check out of the rest of SeaWorld and find yourself in Antarctica."
To Atchison, it's also an example of how private-equity firms, often criticized for dismantling the companies they buy, can jumpstart a business like SeaWorld. Blackstone Group LP bought the company, which owns 11 parks in five states, for $2.3 billion from Anheuser-Busch InBev NV in December 2009. As a small part of the world's largest brewer, SeaWorld was starved.
Atchison, who took Orlando, Florida-based SeaWorld public last month in an $807 million share sale, called the last years under the brewer's ownership "a drought period."
Blackstone, the world's largest private-equity firm by assets, with $218.2 billion under management, had an inside view of the industry. It owned half of the Universal Orlando resort, a stake sold to Comcast Corp. in 2011, and Merlin Entertainments Group, parent of Legoland. Universal's Islands of Adventure park in Orlando increased attendance by 66 percent from 2009 to 2011 after opening the Wizarding World of Harry Potter, according to the Themed Entertainment Association.
The new owners gave Atchison, who has held executive roles with SeaWorld since 1998, the go-ahead to crank up capital spending -- from $120 million in 2010 to $225 million the following year and $192 million in 2012. That let SeaWorld add 11 attractions last year, filings show.
Stingray Falls
Those include Aquatica San Antonio, a water park where the signature ride, Stingray Falls, takes guests on a raft to view tropical fish in an underwater grotto. It also paid for Verbolten, an indoor-outdoor roller coaster at Busch Gardens in Williamsburg, Virginia, that ends with an 88-foot drop toward the park's version of the Rhine River.
At the Antarctica exhibit, guests glide past glaciers to the penguin colony. It is the largest expansion in the company's history, Atchison said, without providing the price.
Spurred by new attractions, such as the refurbished Fantasyland at Walt Disney Co.'s Magic Kingdom and Harry Potter, travel to Orlando has risen annually since 2009, hitting a projected record of 56.8 million last year, according to Adam Sachs, president of Tourism Economics Inc., a forecaster in Wayne, Pennsylvania.
Higher Prices
Increasing tourism will let Orlando theme-park operators raise prices faster than visitor growth, which Sachs estimates at 1.5 percent this year. SeaWorld's five Florida parks accounted for 55 percent of the company's $1.42 billion in revenue last year.
With crowds growing, Atchison is curbing discounts, such as one giving visitors a second day free, and moving away from lower-margin sales through grocers. He raised the price of an annual pass by 24 percent to $149 this year at Orlando's SeaWorld and Busch Gardens in Tampa.
SeaWorld's admissions revenue rose 7.2 percent to $884.4 million last year, thanks to a 3.2 percent increase in attendance and a 4 percent rise in average ticket price to $36.26, according to a company filing.
Last month, SeaWorld and Blackstone sold 29.9 million shares to the public at $27 each, the top of the proposed price range. The offering raised $254 million for SeaWorld, which used the proceeds to reduce debt and make a one-time payment to Blackstone, according to a statement.
Share Sale
SeaWorld fell 0.7 percent to $37.46 yesterday in New York. The stock has risen 39 percent since the offering, making New York-based Blackstone's 63 percent stake worth $2.2 billion.
Not all of Blackstone's deals have worked so well. Bond insurer FGIC Corp. and newspaper publisher Freedom Communications Inc., owner of the Orange County Register, filed for bankruptcy after investments by the firm.
As a side business divested from a larger company, SeaWorld represents "probably the most attractive seams to mine for us," Joseph Baratta, Blackstone's head of private equity investing, said in a May 3 presentation to investors.
"We tend not to buy broken things, break them up, cut cost, sell them off," Baratta said. "We buy businesses where we can intervene to change the growth trajectory of the business through capital and management talent."
Blackstone earned three times its investment in SeaWorld, Baratta said.
2013 Guidance
In a May 22 statement, SeaWorld forecast 2013 revenue of as much as $1.49 billion and up to $440 million in earnings before interest, taxes, depreciation and amortization. That compares with $1.2 billion and $343.3 million in 2010, the first year under Blackstone.
In the seasonally small first quarter, the company posted a net loss of $40.4 million, or 49 cents a share, on revenue of $238.6 million, according to the May 22 statement.
"There was a lot of criticism of private equity during last year's election," said Atchison, 47, who started with the company as a teenager parking cars at Busch Gardens in Tampa. "This was the perfect solution for us. We needed a new home."