Heat's LeBron James Tops All-NBA First Team, Joins Kobe Bryant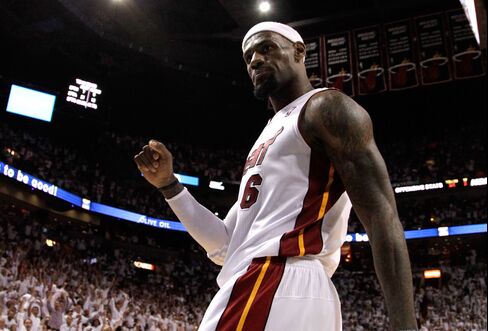 LeBron James of the Miami Heat was selected unanimously for the 2012-13 All-NBA First Team, joining Kobe Bryant of the Los Angeles Lakers, who made the squad for the 11th time.
James, who was selected as league Most Valuable Player after leading the National Basketball Association defending-champion Heat this season in scoring with 26.8 points, eight rebounds and 7.3 assists per game, received all 119 votes for the first team.
In addition to Bryant and James, the first team includes Kevin Durant of the Oklahoma City Thunder, Tim Duncan of the San Antonio Spurs and Chris Paul of the Los Angeles Clippers.
Bryant tied Hall of Famer Karl Malone for the most selections and surpassed 10-time picks Kareem Abdul-Jabbar, Elgin Baylor, Bob Cousy, Michael Jordan, Bob Pettit and Jerry West.
The All-NBA Second Team consists of guards Tony Parker of the Spurs and Russell Westbrook of the Thunder, forwards Carmelo Anthony of the New York Knicks and Blake Griffin of the Clippers and center Marc Gasol of the Memphis Grizzlies.
The All-NBA Third Team includes the Houston Rockets' James Harden and the Heat's Dwyane Wade at guard, the Indiana Pacers' Paul George and the Golden State Warriors' David Lee at forward and the Lakers' Dwight Howard at center.
The All-NBA Teams were chosen by a panel of 119 sports writers and broadcasters throughout the United States and Canada.