Tech Industry After 2007 Loss Drafts Own Rules for Visas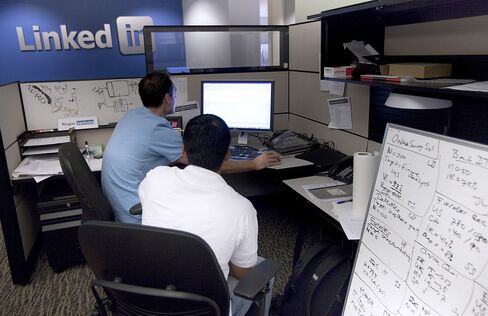 Technology companies, including Microsoft Corp. and Intel Corp., have failed at almost every turn in their quest to persuade federal lawmakers to let them hire more foreign-born workers.
In 2003, Congress took back 130,000 temporary work visas. Four years later, Silicon Valley was surprised when proposed legislation didn't come close to addressing companies' skilled-worker needs.
After the 2007 loss, the industry took a new tack. Tech leaders helped write legislative drafts spelling out what they wanted; they broadened their pitch about immigration to include legalizing undocumented immigrants in the country; and they now are using social media to press their case.
"We knew we had to get into the game early and go strong," said Robert Hoffman, senior vice president of government relations for the Information Technology Industry Council, which lobbies for technology companies. "We knew we had to think several steps down the road."
Silicon Valley's role in pushing for changes in immigration law adds economic urgency to a debate that for more than a decade has focused mostly on the treatment of 11 million undocumented residents. The tech community's engagement also brought to the table companies with the power to mobilize thousands of supporters to join ranks with the Latino community.
Hatch's Support
The gains from the new approach were on display yesterday when Senator Orrin Hatch, a Utah Republican and industry ally, backed a broad revision of immigration law in the Senate Judiciary Committee after the adoption of an amendment making it easier for technology companies to hire more temporary workers. The panel also approved the full immigration bill 13-5.
A "virtual march" today and tomorrow is designed to "leverage the power of innovative digital tools and technology to influence the policy debate in Washington," said Jeremy Robbins, director of the Partnership for a New American Economy. The group is also leading a social-media campaign that encourages Twitter users to contact their lawmakers.
In the first few hours of the movement, which uses the Twitter hashtag "iMarch," the government account for the White House shared seven messages about how immigration affects business and technology.
Borrowed Tactic
March organizers are taking a page from an online movement last year that stopped an effort to crack down on Internet usage of intellectual property. Google Inc. and Wikipedia led a blackout of Internet sites that included a directive to call Congress and tell them to reject the anti-piracy legislation.
Helping amplify voter voices is corporate money: The computer and Internet sector made $64 million in federal contributions during last year's election, more than twice its giving in 2004, according to the Center for Responsive Politics based in Washington. The industry employed 1,142 lobbyists last year to spend more than $133 million pushing its agenda, the center found. Google spent $16 million on advocacy last year, quadrupling its investment in just three years.
Tech has led a surge of lobbying registrations this year on immigration, according to a report today by the Sunlight Foundation, a Washington-based political money tracker. Technology interests accounted for more than one-quarter of the 37 organizations that registered lobbyists this month and last, the report found.
Matured Industry
"The industry has matured about Washington," said Jack Krumholtz, a managing director at The Glover Park Group's Washington office and who was government relations manager for Microsoft for 14 years. "There is awareness now of the need to engage policy makers at all levels of government."
And tech-savvy billionaires have invested their reputations and riches into the immigration issue.
Facebook's Mark Zuckerberg and LinkedIn's Reid Hoffman started a political group called FWD.us that has paid for TV ads to boost and protect immigration backers including Senator Marco Rubio, a Florida Republican.
Apple Inc. co-founder Steve Jobs's widow, Laurene Powell Jobs, will be part of Partnership's online drive, called the March for Innovation. And New York Mayor Michael Bloomberg funds Partnership, which includes dozens of computer and Internet company chief executives. The mayor is founder and majority owner of Bloomberg News parent Bloomberg LP.
More Engaged
"The tech community is more engaged in public policy than at any time that I've been in Congress," said Republican Senator Jerry Moran, who served as a Kansas congressman from 1997 until he was elected to the Senate in 2011. "They're paying attention, and they're trying to influence the debate."
When Congress reconvened in January, technology advocates worked with Moran, Hatch and other lawmakers on tech-friendly immigration bills that the bipartisan Gang of Eight senators could refer to as they wrote the immigration legislation.
The I-Squared Act, sponsored by Hatch, would raise the number of temporary visas available to skilled workers, such as computer engineers, and the Start-Up Act, sponsored by Moran, would make it easier for foreign-born entrepreneurs to stay in the country. Elements of both are included in the legislation.
"These bills were templates for what we wanted to see in immigration," said Senate Amy Klobuchar, a Minnesota Democrat who co-sponsored I-Squared and the Start-Up Act. "They are helpful because they bring a business focus to immigration."
'Favored Child'
Congressional consensus on the principles of tech's must-haves empowers the industry to act as a chief lobbyist for the overall bill. Tech has become a "favored child" in the push for a revision of immigration laws, said Scott Corley, executive director of Compete America, a coalition that represents companies and trade associations on immigration.
"It has been an endless source of frustration over 10 years, and it has taken some time for tech leaders to realize this, but if you care about high-skilled workers, you have to care about broader immigration reform," said Steve Case, the CEO of Revolution LLC and a co-founder of AOL Inc.
Case also served on President Barack Obama's jobs council and has testified about immigration issues facing tech. "The political dynamic is such that none of the specifics get passed without being part of a bigger bill," he said.
Bad Breaks
Until now, tech leaders and trade groups have been beset by bad timing and bad breaks.
In 1998, Microsoft, Intel and other companies persuaded Congress to increase the number of H-1B visas from 65,000 to 115,000 and then to 195,000 as computer companies were rapidly growing. Then the dot-com bubble burst and economy dipped, resulting in a glut of qualified technology workers and H-1B visas that were left unused.
Congress made no move to extend the temporary visa increase, and it reverted to 65,000 in 2004, though that year Congress did approve an additional 20,000 visas for foreign nationals holding a master's or doctoral degree from a U.S. university.
As the economy picked up, tech trade groups resumed lobbying Congress to let them hire more foreign-born workers, including a failed push to persuade Congress to let companies apply for H-1Bs that hadn't been used during the slow economy.
Microsoft Chairman Bill Gates met with congressional leaders in 2006 to urge them to increase the number of visas available. That effort failed. In 2007, President George W. Bush led the "grand bargain" on immigration, an effort that didn't include many outside voices or allow for amendments.
Burned by the failure of a broad rewrite of immigration laws, technology companies tried to go it alone by focusing only on their need for skilled workers. In each of the past five years, they tried and failed to win additional visas.
Before it's here, it's on the Bloomberg Terminal.
LEARN MORE