Betting on a New Gambling Boom in Macau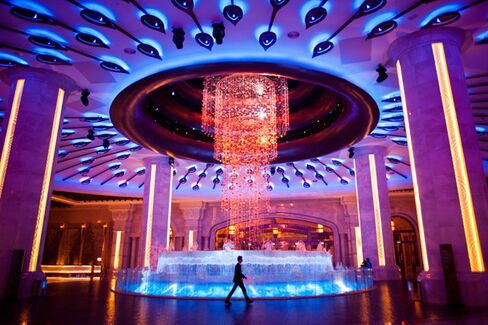 With Macau already far bigger than Las Vegas, how much more can the Chinese gambling hub grow? The Chinese economy may have gone through a rough patch, with gross domestic product growth falling below 8 percent last year, but Macau is still chugging along: The city, the only place in China with legalized casino gambling, generated $38 billion in gaming revenue last year. That's six times more than Las Vegas casinos did and a 13.5 percent increase over 2011.
By local standards, that double-digit growth is a slump: Growth in 2011 was 42 percent. The year before that, growth was 57 percent.
Don't bet on a prolonged slowdown, though. Revenue this month could reach $3.8 billion, according to a report by Citigroup analysts, led by Anil Daswani, published on May 21. "If our estimate is met," the analysts wrote, "May would be the second-best month in Macau," behind only the $3.92 billion of revenue in March. By the end of the decade, casino revenue is likely to double, Bob McBain, chief financial officer of the city's largest casino operator, SJM Holdings, told a gambling conference in Macau on Wednesday.
Industry players are moving to prepare for what could be another big wave of Chinese gamblers. Although tourist arrivals from neighboring Guangdong province dropped 3 percent, total Chinese arrivals still grew by 3 percent, according to data compiled by Bloomberg. Guangdong still served as the biggest source of tourists, accounting for 28 percent of total Chinese visitors, but Macau is diversifying its customer base in China, says Tim Craighead, an analyst with Bloomberg Industries. "Central and northern provinces have now become growth drivers for Macau," he wrote in a report published last month.
For instance, a Hong Kong company that operates one of the city's biggest casinos is betting that there's still plenty of potential for the former Portuguese colony across the Pearl River Delta from Hong Kong. Galaxy Entertainment Group's chief financial officer, Robert Drake, told Bloomberg News on Wednesday that the company plans to spend as much as $60 billion Hong Kong dollars ($7.7 billion) to expand its presence in the city.
Investors seem pleased by Galaxy's moves. The company opened its first big resort on Macau's Cotai Strip two years ago—complete with a rooftop pool, featuring artificial waves and a sand beach—and it's been a big hit. Galaxy revenue is likely to hit $8 billion this year, according to analyst estimates compiled by Bloomberg, up from $7.3 billion last year; earnings are likely to top $1.2 billion, a 21 percent jump over 2012 profits. Galaxy's Hong Kong-listed stock has jumped 175 percent in the past two years and is now trading near its record.
Galaxy, which on May 5 announced plans to spend $420 million to buy a rival casino/hotel named Grand Waldo, wants to start building the next phases of the complex as early as year-end. Competitors are expanding, too. Construction is underway on MGM China's $2.6 billion resort on the Cotai Strip, scheduled to open in 2016. SJM, the longtime leader in Macau, doesn't have an operation on Cotai; all of its casinos are in the old downtown area. This will finally change, with SJM last week winning approval from the Macau government to build on a 70,468-square-meter site on the Strip.
Before it's here, it's on the Bloomberg Terminal.
LEARN MORE