Solar Trade Fight Between China and the EU Heats Up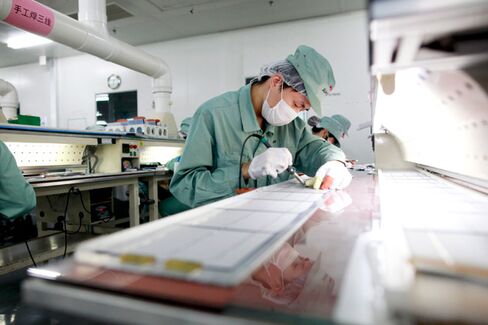 A Chinese-European dispute over solar-panel imports threatens to escalate into a global trade war, and Washington is scrambling to help negotiate a settlement. The Obama administration has begun talks on the issue with the European Union and China, Bloomberg News reported on Tuesday, citing people familiar with the discussions.
The U.S. also has sparred with China over solar imports and is eager to defuse the conflict in order to avoid touching off a spiral of retaliatory measures.
Tensions flared this month, when European officials confirmed informally that the EU was preparing to levy anti-dumping tariffs of up to 67.9 percent on Chinese-made solar panels and related equipment. Europe is the world's largest market for solar equipment.
Supporters of the planned tariffs argue that they're essential to to the survival of Europe's once-booming solar-panel industry, which has shriveled over the past decade as less-expensive Chinese imports captured more than 80 percent of the market. An EU investigation launched in 2004 concluded that Chinese manufacturers benefited from government subsidies, a claim that China denies. Without the tariffs, China will soon have a "solar monopoly, with disastrous consequences for European manufacturers, suppliers, and customers," said Milan Nitzschke, president of EU ProSun, a group representing European industry interests.
Opponents, though, say the tariffs could cause tens of thousands of job losses in Europe. "If prices are artificially increased by punitive tariffs, the European solar market would simply come to a standstill," Wouter Vermeersch, chief executive of Cleantec Trade, a Belgian company that imports and installs Chinese solar equipment, said in a statement released by the Brussels-based Alliance for Affordable Solar Energy (AFASE), an anti-tariff group.
The U.S. has an interest in settling the dispute because of its own troubles with the Chinese solar industry. Last year, Washington slapped tariffs of up to 250 percent on Chinese-made solar energy cells after determining they were government subsidized. China, in turn, has accused the U.S. and Europe of subsidizing polysilicon, a material used in solar panels, and it is planning to impose duties on polysilicon imports.
The U.S. is trying to broker a deal that would set quotas on Chinese exports and minimum prices for solar-energy equipment, two people familiar with the situation told Bloomberg News. Andrea Maibaum, an AFASE spokeswoman, tells Bloomberg Businessweek that the group could support such an agreement only if it "avoids price increases, taking into account the interests of the EU upstream and downstream solar industry."
Germany is the European country with the most at stake in this battle. It is home to some of the region's biggest solar manufacturers, including Bonn-based SolarWorld, whose complaint about Chinese imports triggered the EU investigation. However, others fear that a trade war could dent exports to China from Germany, which accounts for more than half of all EU exports there. Economics Minister Philipp Roesler told the newspaper Die Welt last weekend that the proposed EU tariffs would be "a grave mistake."
Before it's here, it's on the Bloomberg Terminal.
LEARN MORE