Tumblr Deal Offers New York Startups Some Rare Affirmation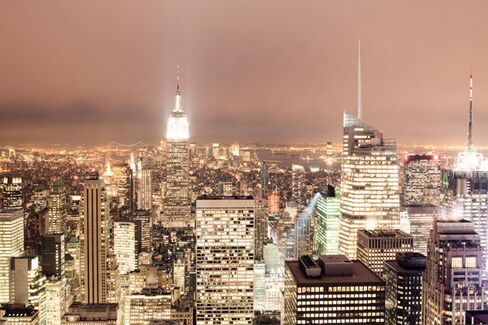 A roundtable of tech startups might be the only place you hear people say that they like New York City for its friendliness, positive reinforcement, and small-town feel. Yahoo's $1 billion-plus acquisition of Tumblr marks the first time in years a New York startup has hit it so big, and the city's tech set sees it as the victory it's been pining for since Google bought DoubleClick for $3.1 billion in 2007.
By many measures, the city's tech scene has arrived in recent years. New York now draws 11.4 percent of venture capital deals in the U.S., passing New England to take over as Silicon Valley's second fiddle. Colleges such as New York University are increasingly trying to reinvent themselves along the lines of the Stanford model; Cornell and Technion, the Israel Institute of Technology, are launching a new technology school on Roosevelt Island. The city's tech startups are even getting involved in this year's mayoral race.
But a big buyout was just the feather New York's cap needed, says Alexis Ohanian, a founder of Reddit and a Brooklyn native who has been one of the city's loudest cheerleaders, even if he did move west to start his own company. "That was one of those things that our West Coast friends could hold over us," Ohanian says. "Not anymore."
In a post for New York Magazine's website, Kevin Roose noted that the deal will have an outsize impact on the psyche of area startups. "It's a big day for David Karp, Tumblr's 26-year-old wunderkind founder, who will pull an estimated $250 million out of the deal. It's also a big day for Yahoo, which will get some cultural cred to fuel its turnaround effort. Arguably bigger, though, is the effect Tumblr's acquisition will have on the legions of Tumblr wannabes here in the city," he wrote.
Tumblr epitomizes the advantages New York has over northern California, or the various other places where a handful of tech companies have given rise to a bad play on the words Silicon Valley. It's a hip media company that hopes to make its fortune on advertising. Last year, when I wrote about Valley startups moving east, almost everyone I talked to cited a desire to be closer to New York's publishing, advertising, or fashion industries.
On the other hand, the time for Tumblr wannabes may have passed. Ohanian's experience with Reddit was similar to Karp's with Tumblr. It involved a small, hip company whose nominal business plan was to gain a bunch of Web traffic and somehow make money. Now an investor, Ohanian says he doesn't hear too many pitches that follow that model. "'Hey, let's make a popular website and get advertisers to run ads against it,' is not the most popular pitch to investors nowadays," he says.
With Tumblr graduating from the startup scene, Ohanian says New York's likely heirs apparent are such companies as Kickstarter and Etsy, which sell things and make money. The media savvy and general hipness of the city will remain an asset, he says, though that doesn't necessarily mean the city's next generation of companies will be in media.
But those are concerns for another day. New York's tech companies can afford to take a moment to revel in the fact that, yes, California likes them.
Before it's here, it's on the Bloomberg Terminal.
LEARN MORE