Citigroup Names Fraser to Replace Das as CitiMortgage Chief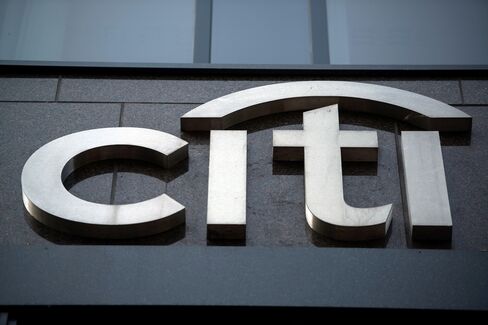 Citigroup Inc., the third-largest U.S. bank by assets, named private-banking boss Jane Fraser to replace Sanjiv Das as chief executive officer of the CitiMortgage unit.
Das, 51, a former Morgan Stanley executive, is leaving to pursue "other professional opportunities," Citigroup CEO Michael Corbat said today in an internal memo. Fraser, 45, was CEO of the New York-based company's private bank for the past four years.
Corbat, 53, is reorganizing Citigroup's executive team after replacing Vikram Pandit, 56, as CEO in October. Vice Chairman Lewis "Lew" Kaden, emerging-markets head Hamid Biglari and consumer-operations boss Richard Garside have exited the firm earlier this year. Corbat also reduced the duties of operations and technology head Don Callahan.
"Sanjiv took over CitiMortgage in the depth of the financial crisis," Corbat wrote. "His leadership has helped stabilize the business during the most difficult of times."
Mark Mason, head of the Citi Holdings division that contains the bank's unwanted assets, will replace Fraser as CEO of the private bank. Francesco Vanni d'Archirafi, former head of the transaction-services business, will become CEO of Citi Holdings, the company said.
Distressed Loans
Das will remain at Citigroup for the next few months and work on "mortgage issues related to the government," Corbat said. Das first joined the lender in the 1990s before leaving for roles including managing director at New York-based Morgan Stanley, according to a biography on Citigroup's website.
Pandit, also a former Morgan Stanley executive, rehired Das in July 2008 to head Citigroup's mortgage unit as the bank reeled from losses tied to subprime home loans. Taxpayers saved the company from collapse months later with a $45 billion bailout, which the lender later repaid.
As head of CitiMortgage, Das helped lead the bank's attempts to reduce and wind down its portfolio of distressed home loans, which amounted to about $150 billion at the end of 2009, a financial supplement shows. Citigroup has sold about $10.6 billion of delinquent residential first mortgages since then, the lender said in a quarterly filing earlier this month.
The division that contains the unwanted CitiMortgage loans has posted losses of about $13.3 billion since 2010, according to financial supplements.
Regulators' Probes
Das also ran the bank's mortgage-lending and servicing business, which was investigated by regulators for wrongdoing during his tenure. In 2012, Citigroup was among banks that agreed to pay $25 billion to settle a nationwide probe into disclosures that they used flawed documents in seizing homes.
Citigroup also agreed to pay $158 million last year to settle a whistle-blower's claims that the mortgage unit deliberately reduced oversight of its loan-origination process. Das's unit admitted to falsely stating that some home loans were eligible for a federal insurance program. Regulators said that the misconduct took place at CitiMortgage between 2004 and the time of the settlement.
Citigroup appointed internal "gatekeepers" to pressure quality-control employees to downgrade their reports on defective loans, regulators said in the complaint. Internal reviews of bad loans remained a "battleground" in the CitiMortgage unit, regulators said.
Das didn't return phone or e-mail messages seeking comment. Mark Rodgers, a Citigroup spokesman, declined to comment on Das's departure beyond the memo.
'Transformed' Business
Fraser replaces Das at the helm of a unit that had about $86 billion of home loans at the end of March, according to a financial supplement. About 4 percent of the loans were more than 90 days overdue, the supplement shows.
Citigroup hired Fraser, a former McKinsey & Co. consultant, in 2004, according to the memo. Before taking over the private bank, she was head of client strategy in the investment-banking division and then global head of strategy and mergers and acquisitions, according to her profile on LinkedIn Corp.'s website.
At the private bank, Fraser oversaw a business that says it has relationships with a third of the world's billionaires. The unit posted revenue of $629 million at the end of March, up 5.2 percent from the same period a year earlier. Citigroup doesn't disclose the division's profit.
"Jane transformed the business, recruiting and developing top talent who helped the business deliver strong results and industry-leading efficiency ratios," Corbat said in the memo.
Vanni d'Archirafi, the new head of Citi Holdings, takes over the division that contained about $149 billion of unwanted assets at the end of March, including the distressed CitiMortgage home loans. Total assets in the division plunged 29 percent in the first quarter from a year earlier, the supplement shows.