Lew Orders Review of IRS Systems After Groups Scrutinized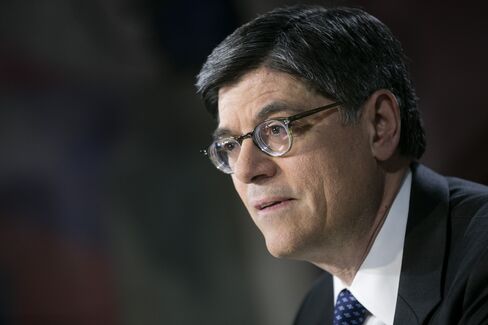 U.S. Treasury Secretary Jacob J. Lew said he learned in general terms about a probe into IRS screening of tax-exempt groups in March and now has ordered agency officials to deliver within 30 days a plan to correct any "systemic" shortcomings.
Lew said he was briefed in mid-March that an investigation of the agency's handling of the applications by nonprofits was under way, though he didn't know the substance of the findings until last week, when they became public. An inspector general's report found groups that had "Tea Party" or "patriot" in their names received closer screening.
"When I learned about it, from the moment I learned about it, I was outraged," Lew said in an interview on Bloomberg Television's "Political Capital with Al Hunt," airing this weekend.
Lew said he instructed Danny Werfel, who President Barack Obama earlier this week named to take over as acting IRS commissioner, to deliver a plan that will ensure any staff members who acted inappropriately are held accountable and that any agency failings are corrected.
The IRS actions were scrutinized at a U.S House hearing yesterday, with lawmakers demanding to know why they weren't informed earlier about the targeting of nonprofit groups that focused on those in the limited government Tea Party movement.
It's one of three controversies confronting Obama's administration, with lawmakers led by Republicans continuing to probe the deadly attack last year on a diplomatic outpost in Benghazi, Libya, and the Justice Department's subpoena of phone records of Associated Press reporters and editors.
First Briefing
Lew, sworn into the Treasury post on Feb. 28, said he had "a getting-to-know-you conversation" with Internal Revenue Service Inspector General Russell George a few weeks later, and the probe of the handling tax-exempt applications "was one of the things he briefed me was ongoing," he said.
"I didn't know any of the details of it until last Friday," Lew said.
Lew said that once an inspector general begins a probe, "you don't know a lot about an investigation until it's nearing the end" so that the process isn't subject to interference.
Federal agency heads and Cabinet secretaries typically wait until an inspector general's investigation ends to take action to avoid appearing to intervene, said Stanley Brand, a Washington criminal defense attorney who has represented targets of probes by inspectors general.
Step Back
"The smart and appropriate thing for the secretary to do at that point would be to step back and let the IG do his work," Brand said. "It's like when the FBI investigates an agency: You can't have the agency head taking actions that could pre-empt or compromise the investigation."
"It is a matter of the highest priority that the IRS be beyond suspicion," Lew said.
Lew, 57, defended Sarah Hall Ingram, a former leader of the IRS's tax-exempt and government entities division who is now in charge of the IRS division handling implementation of Obama's health-care law. She has been targeted for Republican criticism.
"My understanding is her responsibilities moved over from the tax-exempt unit to implementation of the Affordable Care Act before there was any opportunity to be involved in this," Lew said. "I've heard that she has a high degree of professionalism and that she was not in a position of responsibility over these actions."
Nominations Lag
Lew sidestepped questions about the length of time it has taken the Obama administration to nominate a replacement for IRS Commissioner Douglas Shulman. Shulman, appointed to head the agency by former President George W. Bush, announced 13 months ago that he would leave his position in November 2012, and the Obama administration hasn't yet nominated a replacement.
"We are working speedily to deal with this," Lew said.
Referring to Werfel, he said, "The fact that we brought in a new acting commissioner on such short notice and it's a person of high quality and high character is demonstration of how important we think it is to have a leader there."
Werfel, who had been controller of the White House budget office, replaced Steven Miller, the acting IRS commissioner who was forced to resign by the administration over the screening issue
Lew also said the U.S. economy may grow by more than 3 percent next year, after being slowed this year by tax increases and the automatic spending cuts in federal spending known as sequestration.
"There's every reason to believe that without the fiscal drag from federal policy, the economy should be growing north of 3 percent," Lew said, adding that within a couple of years the growth can reach 3.5 percent.
Economists surveyed by Bloomberg predict the world's largest economy will expand 2.7 percent next year and 3 percent in 2015.
Lew said he's consulting on financial markets with a number of executives, including Goldman Sachs Group Inc. Chief Executive Officer Lloyd Blankfein and JPMorgan Chase & Co. CEO Jamie Dimon.
Before it's here, it's on the Bloomberg Terminal.
LEARN MORE