Consumers Are the Happiest Since 2007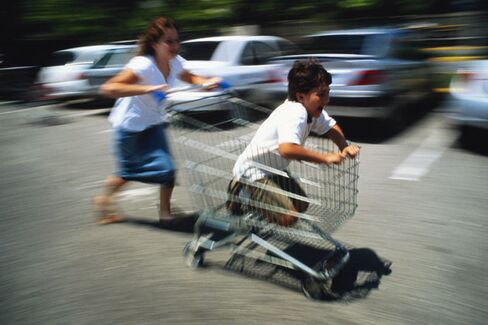 The gloom seems to be lifting. With a rising stock market helping the rich and falling gas prices benefiting the middle class, Americans' sentiment has reached the highest point since July 2007. That's according to the preliminary May reading of the Thomson Reuters/University of Michigan index of consumer sentiment released today.
The Michigan number was even higher than the top end of analysts' expectations.
There's a lot for consumers to fret about, from elevated long-term unemployment to the January payroll tax hike and the automatic, across-the-board federal spending cuts that began in March. But those factors seem to be trumped, for now, anyway, by a buoyant Wall Street, cheaper pump prices, and a revival of the housing market.
"It's not an optimistic consumer, but it's a resilient one," Michael Englund, chief economist of Action Economics in Boulder, Colo., told Bloomberg News before the Michigan data release.
In his analysis of the report, JPMorgan economist Daniel Silver noted that sentiment for families with annual incomes of more than $75,000—who are more likely to be benefiting from rising stock prices—rose 17.2 points in May, while sentiment for lower-income families rose 2.6 points.
"Looking ahead, we expect consumer mood to gradually gain some more ground," IHS Global Insight wrote.
Wrote Capital Economics economist Amna Asaf: "Changes in confidence don't always filter through to changes in spending, but the omens are good."
Before it's here, it's on the Bloomberg Terminal.
LEARN MORE