Chic Team, Dudamel Dramatize Mozart's 'Figaro' in LA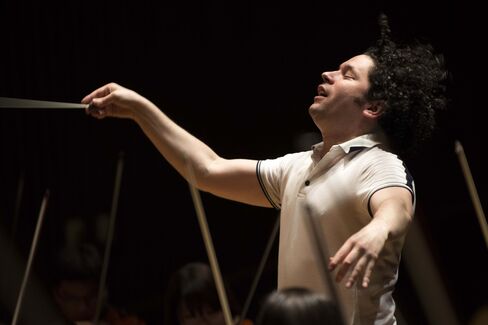 It began in a Starbucks Corp. coffee shop in Berlin six years ago. Los Angeles Philharmonic Association President Deborah Borda and conductor Gustavo Dudamel decided to ask architect Frank Gehry to design sets for a trilogy of Mozart operas Dudamel wanted to stage.
Bursting with excitement, the pair called Gehry in his Santa Monica, California home. "You know it's seven in the morning," Borda recalls him saying. The pleasantly grumpy designer of the Walt Disney Concert Hall quickly came around, however, and suggested enlisting two other architects to join the project.
Tonight, the company premieres "The Marriage of Figaro" featuring a set designed by Jean Nouvel with costumes by his friend, Parisian couturier Azzedine Alaia.
The production follows last year's "Don Giovanni," which Gehry set inside a spooky white landscape of crumpled paper mountains. Characters often moved like ghosts wearing elaborately stitched outfits by the Rodarte sisters.
(Here's the Muse review of "Don Giovanni.)
"What we have been very interested in exploring here is how the lines cross between the visual arts and the dramatic arts and not simply to define an orchestra as an orchestra," Borda said in an interview. "Jean Nouvel has entirely transformed Walt Disney Concert Hall. It's more than an opera house. It's an environment."
Spanish Castle
Nouvel, a Pritzker-Prize winner, best-known in the U.S. for Minneapolis' Guthrie Theater, with its cantilevered, "skyway to nowhere" jutting out to the Mississippi River, turned Disney Hall into a Spanish castle for the production.
The red, gold and brown hues of the set evoke 18th century royalty but in a modern way, through lighting and projected images.
The 67-year-old Frenchman faced challenges because the hall is designed for symphonies and not stage productions, according to Chad Smith, the Philharmonic's vice president for artistic planning.
Nouvel created an orchestra pit where one didn't exist by building another stage on top of the regular one and covering it with prints to make it look like wood and tile.
He turned the theater into a castle-like great hall by lowering six panels from the ceiling and projecting images, such as windows, onto them. The panels are see-through, so the audience can still read the supertitles.
"That's what architects do; they solve problems," Smith said.
The Organ
Nouvel also got to play with some of the hall's famous features, including its centerpiece, an organ Gehry designed that looks like an order of French fries. With green lighting, its pipes became trees for a garden scene.
"They're riffing on the building," Smith said.
In his costume designs, Alaia also walked the line between the historical and the contemporary. They include a kind of gold-threaded Nehru jacket with slim black trousers for Figaro and a black leather bodice and skirt for Marcellina.
Along the way, he designed a "Figaro" clothing collection which may be sold or appear in museums, Borda said.
That may be the only lasting thing about this "Figaro," which will be performed just four times.
Talk of additional cities is still "far in the future," Borda said, given the cost of the production, which was underwritten by donors including the Lloyd E. Rigler - Lawrence E. Deutsch Foundation.
"As expensive as it is to stage, it would be more expensive to take it on the road," she said.
Next year, Borda will present "Cosi fan tutte," with sets by architect Zaha Hadid and costumes from designer Hussein Chalayan.
"This is made for this time and this place and I love that emphemeral nature of it," Borda said. "That's very moving to me."
For more information: http://www.laphil.com.
Muse highlights include Lewis Lapham's podcast and Jeremy Gerard on theater.