What the Sacramento Kings Vote Reveals About the Business of Basketball
Dissecting the NBA's vote to keep the Kings in Sacramento, for now.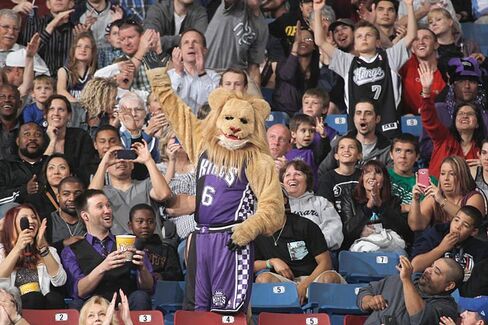 Yesterday in Dallas, NBA owners voted not to let the Sacramento Kings move to Seattle. Instead, the team will stay where it is for now and probably be sold to an ownership group that wants to keep it there. The vote did feel a little bit like the International Olympic Committee choosing the next host for the Games, but this was more than a contest among cities. It was a referendum on how the NBA does business. Here's what we learned:
1. If you build it, they will stay: More than anything else, the Sacramento saga is about public funding for arenas. The NBA, like the NFL and MLB, wants to reward cities that help pay and punish those that don't. Seattle lost its team in 2008 because it refused. When Sacramento Mayor Kevin Johnson came up with a promise to secure $258 million in public funds for a new arena, the league felt bound to keep up its end of the deal. "You've got to match the offer, have a building, and get a good ownership group that can make it happen, and it happened," Commissioner David Stern said at the press conference yesterday. The Kings, of course, already have a building. Stern meant a new building, replete with lots of luxury boxes subsidized by taxpayers.
2. NBA owners are not done arguing: Yesterday's vote was 22 to 8 against relocation. The league didn't say who voted how, though Portland Trailblazers owner Paul Allen, who has good reasons to side with Seattle, apparently did so. It's a safe bet that some of the other dissenters objected to the idea that the current Kings owners, the Maloof family, would not be allowed to sell their struggling, small-market franchise to the highest bidder. At least a few of those owners, I'd wager, can imagine themselves in the Maloofs' shoes. The league's 2011 lockout was primarily an argument among NBA owners about how to make winning possible, on the cheap, for small-market teams. This struggle between the league's haves and have-nots bubbled up again that winter, before Stern blocked a trade that could have strengthened the big-spending Los Angeles Lakers. It's not over.
3. Keep an eye on India: The Maloof family now has to decide whether to sell their stake in the Kings to a group lead by Vivek Ranadive, minority owner of the Golden State Warriors and founder of the Palo Alto-based software company Tibco. Stern said he aims to get that deal done in the next 48 hours. George Maloof was less optimistic. "We'll see what happens. It's not over," he told reporters. Assuming the sale goes through, the NBA will have an Indian-born owner in Sacramento. Ranadive is a walking Thomas Friedman column/TED Talk/Malcolm Gladwell think piece. His company analyzes huge troves of data very quickly so that, for instance, casinos can know when a gambler is about to give up and leave. He also, to hear Gladwell tell it, invented the press defense in basketball. Most importantly for the NBA, in his current role with the Warriors, he has worked to market the game in India, something the league is eager to do more of.
4. Fear not, Seattle: Basketball fans in Seattle are understandably hurt this morning, but they may still get a team soon. Sterns says the NBA doesn't want to consider expansion until it knows just how big the next TV contracts are, and the league reportedly wants to start renegotiating its current deals with ESPN/ABC and TNT ahead of their 2016 expiration. If trends hold, the league's payday will be huge, which means the owners should feel flush enough to share the bounty with one more team. And Seattle has already made its case.
5. The breaking point: The Seattle group that lost out yesterday was ready to pay $406 million for a 65 percent stake in the Kings, a price that valued the franchise at $625 million. That seems bananas when you consider that the highest fee ever paid for an NBA team is $450 million (for the Warriors in 2010) and that the Kings had the worst attendance in the league this year. It makes more sense when you consider the substantial subsidies sports teams get from taxpayers (see item No. 1) and cable subscribers. The megabucks TV deal the league is eager to sign is built on high fees that programmers demand for sports, ever-rising fees that are built on the idea that sports fans will migrate to whichever cable company carries the games they want to see. Non-fans, however, are getting tired of carrying this freight. Witness Senator John McCain (R-Ariz.) telling Bloomberg TV about the "many, many" people who don't watch ESPN but pay $5 a month for it. If McCain had his way on à la carte cable pricing, nobody would be offering $625 million for the Kings.
Before it's here, it's on the Bloomberg Terminal.
LEARN MORE