M&A News: Actavis, Verizon Wireless, Commerzbank, Itau Unibanco, China Galaxy
Noteworthy expenditures of the week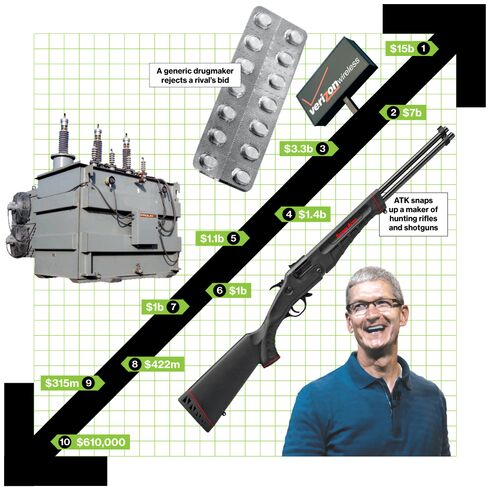 1. Actavis rejected a $15 billion cash-and-stock offer from fellow generic drugmaker Mylan to pursue a takeover of Warner Chilcott, say people familiar with the matter.
2. Verizon Wireless, the mobile-phone joint venture of Verizon Communications and Vodafone Group, plans to pay a $7 billion dividend to its co-owners. Verizon will get $3.85 billion and Vodafone $3.15 billion.
3. Germany's Commerzbank will raise $3.3 billion by selling shares to help repay debt from its government bailout.
4. Latin America's No. 1 bank by market value, Itaú Unibanco Holding, is buying Citigroup's Credicard unit for $1.4 billion, gaining an additional 10 percent share of Brazil's card market.
5. China Galaxy Securities, a brokerage controlled by the country's sovereign wealth fund, raised about $1.1 billion in a Hong Kong IPO, say two people with knowledge of the matter.
6. China XD Group, a state-controlled power-equipment maker, is in talks to buy Prolec GE Internacional for as much as $1 billion, say three people with knowledge of the discussions.
7. In hopes of persuading shareholders to spurn a takeover bid by Royalty Pharma, Elan will pay GlaxoSmithKline $1 billion for a 21 percent share of future royalties from four Theravance respiratory drugs.
8. Constellium Holdco, a Dutch specialty aluminum-product maker controlled by Apollo Global Management, plans to raise as much as $422 million in an IPO.
9. ATK, a maker of aerospace and defense products, will pay $315 million for Caliber Co., parent of Savage Sports, a maker of hunting rifles and shotguns.
10. The winning bid for an hour-long coffee date with Apple CEO Tim Cook closed at $610,000, more than 12 times the charity event's pre-auction estimate of $50,000.
Before it's here, it's on the Bloomberg Terminal.
LEARN MORE