Bangladesh Safety Accord Is Too Binding for American Retailers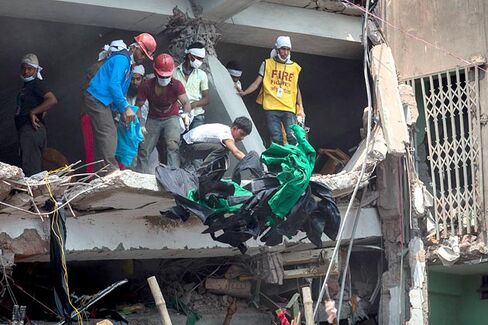 It probably shouldn't come as a surprise that none of the biggest American retailers signed a global accord to improve the safety of garment factories in Bangladesh. Wal-Mart Stores didn't sign. Gap didn't. J.C. Penney didn't. These companies are concerned about preventing the fires and collapses that have killed more than 1,100 Bangladeshi workers in the past six months. But signing a legally binding agreement with built-in systems to resolve disputes that was created with labor unions? That's too European.
Wal-Mart said yesterday (PDF): "While we agree with much of the proposal, the IndustriALL plan also introduces requirements, including governance and dispute resolution mechanisms, on supply chain matters that are appropriately left to retailers, suppliers, and government." Instead, Wal-Mart will conduct, within the next six months, its own safety inspections of the 279 factories its contractors are authorized to use; will require "remediation as necessary;" and will make the results public.
At the Gap, Debbie Mesloh, a company spokeswoman, said on May 13 that the company is "ready to sign on" pending a change to the provision regarding binding arbitration. And J.C. Penney is working on an alternative safety agreement with industry groups, spokeswoman Daphne Avila, told Bloomberg News on Tuesday. She declined to provide details.
One American company did join the program: PVH, which owns Tommy Hilfiger and Calvin Klein. PVH had been one of only two companies to agree to an earlier, less comprehensive deal. On Monday, the company announced on its website that it was signing the new accord and added: "PVH has invited industry partners to join it." The company declined to comment further.
Before it's here, it's on the Bloomberg Terminal.
LEARN MORE