Should KFC Rethink its China Strategy?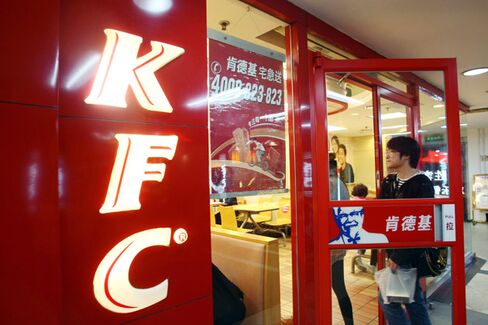 When YUM! Brands held its annual investor day in early December, the script was familiar: The star of the fast-food family—the pretty one that brought home the big bucks and wowed rivals—was once again KFC China. Its sluggish U.S. sibling, with disgruntled franchisees and years of poor results, was barely mentioned. Never mind that the Louisville, Ky., company had warned just a week earlier that sales at Chinese locations would drop 4 percent in the quarter. The theme of the 2012 meeting, reiterated last month in its annual report, was "On the Ground Floor of Global Growth: China and a Whole Lot More."
Now the owner of Taco Bell and Pizza Hut looks like a parent who has given too much attention to one kid. KFC China is the suddenly disappointing high-achiever, with same-store sales dropping 36 percent in April amid food safety scares, avian flu, and increased competition. Leslie Patton of Bloomberg News reports that the menu mix is also a problem.
Meanwhile, the U.S. business is getting positive buzz for Original Recipe Boneless, which launched on April 14 with the tagline, "I ate the bones." Unlike its grilled chicken launch four years ago, which prompted a coupon fiasco on Oprah and franchisee lawsuits over its "Unthink KFC" campaign, this product seems to be making everyone happy.
Although too soon to dub boneless a success, even such longtime critics as attorney Andrew Selden, who represents the Independent Association of Kentucky Fried Chicken Franchisees, seem pleased. "It's going very, very well," says Selden. "This shows what you can do when you listen to what customers want and invest in the brand."
The irony is that Yum investors may not see much upside from KFC's improved performance at home. That's because Chief Executive Officer David Novak long ago lost his taste for the U.S. business and has sold so many company-owned stores that they now make up about 5 percent of roughly 4,400 U.S. outlets. In China, where Yum derived 42 percent of its profits last year, the vast majority of 4,200 KFC outlets are company-owned. While that means less-volatile revenue in the U.S., where Yum typically gets royalties pegged at 5 percent of sales, it also means less upside when things are going well.
Novak has made no bones about his preference for betting on Beijing when it comes to fried chicken. For good reason: KFC China is arguably the world's most successful fast-food brand, prompting a Harvard Business Review case study. The U.S. operation, in contrast, is among the worst—a tale of eroded market share, bankruptcies, and franchisee lawsuits—even as chicken consumption has grown.
For Novak, the decision has been easy: Why stay tied to a name that evokes aging outlets and fatty food at home when you can be an aspirational, high-growth brand with little competition abroad? As Novak told me in an article last year: "China has what every business wants—speed." Then he added, "You have too much doom and gloom in this part of the world."
Shareholders have come to agree. As John Gordon of Pacific Management Consulting Group points out, "Yum has become a China story in investors' minds." After Yum said same-store sales in China had risen 2 percent in February, the stock price jumped by 6 percent. While KFC may still be the largest U.S. chicken chain in outlets, Chick-fil-A's 1,700 stores rival it in sales and boast a cult-like legion of fans. Popeyes Louisiana Kitchen has also fared better, recently buying up some bankrupt KFC outlets.
Under John Cywinski, KFC's U.S. president for the past two years, the trend has started to reverse. Once KFC's fortunes look solid, some assume, Yum may sell its U.S. businesses to focus more on making money overseas. But with KFC China's fortunes is disarray, just as its U.S. counterpart has people talking about boneless chicken, Yum could decide it's better to spread love among the family. While investors may welcome some signs of winning, they know which business matters more to Yum's bottom line.
Before it's here, it's on the Bloomberg Terminal.
LEARN MORE