DiCaprio's Movie Pals Aid Tiger in $39 Million Auction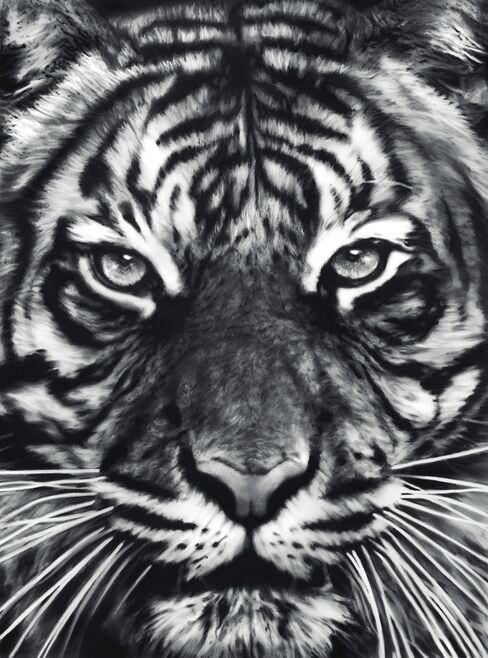 Leonardo DiCaprio brought Hollywood to New York last night, as a Christie's fundraiser for conservation that he helped organize raised about $39 million.
Records were broken for 13 artists, including Mark Grotjahn and Robert Longo, in a 33-lot auction that totaled $33.3 million including commissions. In addition, donors contributed $5.5 million.
"He's the real deal," Tobey Maguire said of his "Great Gatsby" co-star while leaving the Rockefeller Center saleroom. "He has a great vision and his feet on the ground."
"The 11th Hour" charity auction was estimated to total $13 million to $18 million. The money is to support conservation projects world-wide, chosen by a team that includes Robert F. Kennedy, a clean-water advocate, and Philippe Cousteau, an environmentalist and grandson of Jacques Cousteau, the undersea explorer who died in 1997.
In remarks before the festive sale, DiCaprio said proceeds would aim to preserve "the last wild places on earth."
"We are at the 11th hour," said the actor, sporting slicked-back hair, a dark gray suit and a white shirt open at the collar. "We are facing a tipping point."
Applause punctuated the largest bids. As Bradley Cooper, Salma Hayek and Mark Ruffalo looked on, DiCaprio himself snared a Takashi Murakami acrylic for $735,000. (Christie's charged buyers a 5 percent commission, a fraction of its standard rate.)
Leonardo's Tigers
DiCaprio is on the board of the nonprofit Natural Resources Defense Council. His personal foundation's partnership with the World Wildlife Fund helped double the number of wild tigers living in Nepal's Bardia National Park, according to the auction catalog.
Working with Christie's specialist Loic Gouzer, he approached leading contemporary artists to donate works. According to Christie's, all but two of the lots were tax-deductible -- for the portion of the purchase price above the midway point between the high and low estimates.
Several works depict creatures in need of protection. Longo's large-scale charcoal drawing "Untitled (Leo)" portrays a tiger's head up-close. Estimated at $250,000 to $350,000, it fetched $1.6 million.
Stewart Rahr, a philanthropist and former pharmaceutical mogul, paid $1.1 million for an oil portrait of a stern-faced DiCaprio that Elizabeth Peyton painted earlier this year.
"Leo's a personal friend," said a tanned Rahr when asked why he bought the painting. "And the environment."
Top Lot
The top lot was Grotjahn's cascading "Untitled (Standard Lotus No. 11, Bird of Paradise, Tiger Mouth Face 44.01)." Dealer Larry Gagosian bought it for $6.5 million.
Toby Usnik, Christie's chief social responsibility officer, said he believes it was the largest-ever benefit for the environment. DiCaprio said in the catalog that less than 2 percent of philanthropy is for conservation.
Muse highlights include Scott Reyburn on art, Farah Nayeri on movies at Cannes.
Before it's here, it's on the Bloomberg Terminal.
LEARN MORE