Why Did the Administration Hit Up Companies for Donations to Promote Obamacare?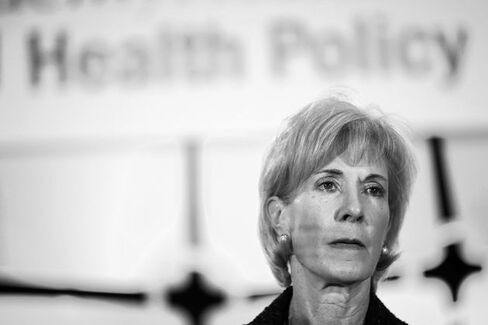 There were inevitable cries of scandal last week when the Washington Post broke the story that U.S. Health and Human Services Secretary Kathleen Sebelius solicited private contributions to promote Obamacare. Republican Senator Orrin Hatch of Utah said he wanted to know whether there were conflicts of interest and possible federal law violations. Good government types expressed concern.
It's a little early to say whether there was any malfeasance involved in Sebelius's campaign to use private money to fund pro-Obamacare outreach efforts, but this much seems undeniable: The White House still has some serious obstacles to overcome in getting Obamacare up and running.
In October, states are supposed to begin enrolling people in online health-care exchanges, which are intended to enable shoppers to purchase coverage as easily as they make travel arrangements on Expedia. The government is counting on healthy young people to sign up to subsidize older, less healthy ones. If that doesn't happen, premium prices could soar. One way to lure younger consumers is to advertise. That's what pro-Obamacare states such as California are doing.
The problem is that only 16 states and the District of Columbia are setting up their own exchanges. Seven others are doing it in partnership with the federal government. Twenty-six states want little to do with Obamacare and are leaving it to Washington to establish these online marketplaces within their borders.
Anti-Obamacare governors such as Rick Perry of Texas aren't likely to encourage younger citizens to join the exchanges. They'd rather see them fail and cripple the Democratic party in the 2014 congressional elections. That means the White House has to spend more to get the word out about the law and get people in these states to sign up.
That effort could be hampered by another complication that should be keeping people at the White House up at night: One in five Americans believes that Obamacare has been repealed, according to an April poll by the Kaiser Family foundation.
In other words, the White House must act quickly to increase public awareness dramatically that the Affordable Care Act is indeed going into effect and that people can sign up through the health exchanges. HHS complains that's not easy to do, because Congress isn't giving it enough money. But by soliciting private donations and raising ethical questions, Sebelius may have only made her job even harder.
Before it's here, it's on the Bloomberg Terminal.
LEARN MORE