One More Reason to Get a Harvard MBA: Social Cachet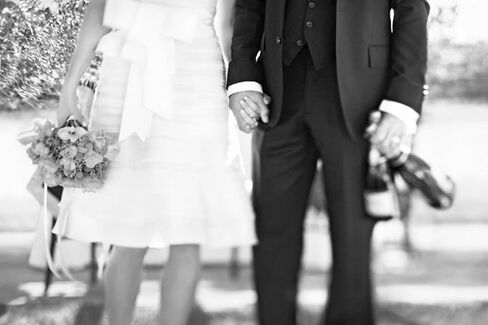 The New York Times wedding announcements—a guilty pleasure for some—provide an interesting look at the nation's landed gentry. Scanning the photos, you won't find too many butchers or bakers or candlestick makers, for that matter. You will find plenty of bankers, hedge fund managers, and others who travel in rarefied social circles.
Which makes them a natural habitat for MBAs. The MBA admissions consultant mbaMission.com has thumbed through every Times wedding announcement since the beginning of the year and put it all into the nifty little chart below, which shows the number of weddings featuring at least one MBA from seven top schools.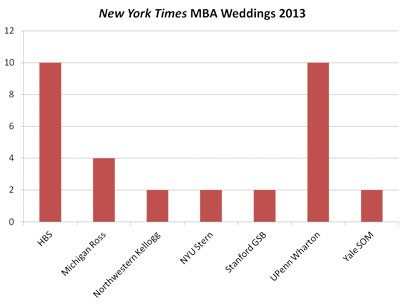 Of the 256 weddings featured in the paper of record so far this year, 52 (one out of five) included MBAs, according to the accompanying
blog post
. Clearly,
Harvard Business School
and
Wharton
dominate, although Jeremy Shinewald, the company's founder and president, cautions against reading too much into that, pointing out that the
Times
wedding announcements may suffer from a geographic bias that favors the Northeast.
Shinewald, himself an MBA from the University of Virginia's Darden School of Business whose own wedding announcement was not submitted to the Times, says he's not sure what to make of the rather large number of MBAs featured in the publication. MBAs may rise to the level of prominence that's recognized by the Times because they have MBAs, he says, or they might just have innate talent and their MBAs are immaterial. Or, they may just come from wealthy, connected families?
"It's tough to understand if this is cause or effect," Shinewald says. "Is it the school or the individual? It's probably a combination of both."
Join the discussion on the Bloomberg Businessweek Business School Forum, visit us on Facebook, and follow @BWbschools on Twitter.
Before it's here, it's on the Bloomberg Terminal.
LEARN MORE