The Right Way for a CEO to Deliver Bad News
The right way for a CEO to deliver bad news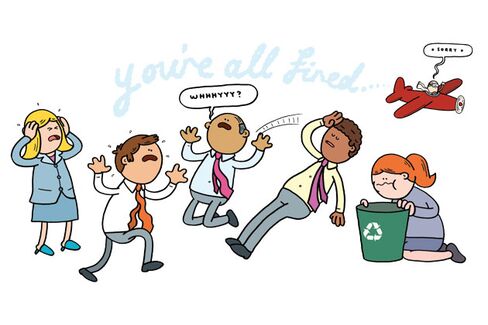 How do you tell 400,000 people they're terrible at their jobs? Do you hold a meeting? Send a mass e-mail? Tell only a few people and wait for your criticism to circulate, middle school-style? Or do you follow IBM Chief Executive Officer Virginia "Ginni" Rometty's example and record a video message, post it to your company's internal blog, and then share it with the entire workforce?
After the disappointing earnings report on April 18, Rometty released a video to all 434,000 employees in which she admitted that IBM hadn't "transformed rapidly enough." She called out the sales staff for missing out on several big deals. "We were too slow," she said. "The result? It didn't get done." The press got wind of her message, and Rometty's now accused of the corporate equivalent of yelling at her children in public. The Wall Street Journal, which broke the story, called the outburst a "rare companywide reprimand." IBM declined to comment on the video.
"You have to assume that things like this will get leaked," says Ron Ashkenas, a senior partner at Shaffer Consulting and an executive in residence at the Haas School of Business at the University of California at Berkeley. "You know that old adage: As soon as you tell a second person, it's no longer a secret. Well, when you're telling 399,999 other people, it's definitely not a secret." Ashkenas adds that whether you choose an e-mail—as Yahoo! did in February, informing employees they'd no longer be allowed to work from home—or a video, the need to reach such a wide audience almost guarantees it will feel impersonal. "It's OK to put sand in the oyster shell," he says, "but you have to make sure it turns into a pearl."
The key to keeping bad news constructive, says George Bradt, managing director of the executive consulting firm PrimeGenesis, is preemptive damage control. "There are people who are going to be very emotionally affected by what you're about to do," he explains, "and you can't let them find out about this along with everyone else." Bradt suggests speaking to those employees in person, no more than 24 hours before any announcement.
Afterward, managers should encourage people to come forward and talk to them. Noel Tichy, the former head of General Electric's Leadership Center, who's writing a book about IBM, says Rometty's video has already inspired a lot of feedback within the company. "With the video, she can see where her message is landing—who's watching, who's responding," he says. That's very important for a company as large as IBM, with employees spread across 170 countries.
Companies rarely nail this prep-first, follow-up-after technique, Bradt says. "People take great pains to craft the announcement, but they don't think about the follow-through and quickly lose control over the conversation." The result is a horde of angry employees. Mary Dixson, dean of interdisciplinary programs at Northwest Vista College in San Antonio, has been on the receiving end of critical companywide messages at a previous job. "It did not result in a sudden urge on our part to suck less," she says.
Employees aren't going to watch one video or read one memo and completely change the way they work—the company has to change, too. In the video, Rometty laid out a plan for IBM to respond to customers within 24 hours: "Engage management, engage leadership, and let's deal with it." She's already "reassigned" the head of IBM's computer hardware department, the source of a large portion of the sales drop. "Ginni's a very direct, no-BS type of CEO, and she had one message that she delivered to everyone," Tichy says. "It would be much worse if it went through the internal channels. No one wants to hear that the CEO thinks they dropped the ball through word of mouth."
Before it's here, it's on the Bloomberg Terminal.
LEARN MORE