Suitsupply Splurges on New Stores and an Ad Blitz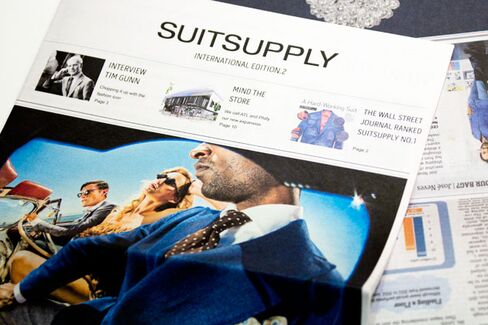 The suit business just got a bit tighter.
Suitsupply, a Dutch menswear retailer recently making inroads in the U.S., produced a flashy (and no doubt expensive) fashion show this morning: a 32-page insert in copies of the Wall Street Journal delivered on the East Coast. Next week the insert, which highlights the company's new U.S. locations and sleek duds, will go into WSJ editions on the West Coast. Roughly 1.2 million Journal subscribers will see it, according to Suitsupply founder and Chief Executive Officer Fokke de Jong.
"We're getting a bigger footprint in the U.S., and we're seeing lots more people going to our online store, so it made sense to do some with a bit of a broader reach," De Jong says.
Until now, the privately held company has seemed content to make its way as a fashion-press darling, as magazines like Esquire raved about the company's low-end prices and high-end offerings. GQ, for example, called Suitsupply its "go-to for impressive, quality-tailored pieces that won't break the bank." And the company took top honors in a WSJ review of affordable suits two years ago.
This morning's ad, however, was likely a costly play, according to Marty Avallone, president of Manhattan-based ad-buying shop Working Media Group. "The printing alone on that is pretty sizable," Avallone says. "But it's great. Ad inserts work very well because they stand out."
The marketing push comes on the heels of Suitsupply store openings last month in Atlanta and Philadelphia. The retailer now has five U.S. stores, including outlets in Chicago and Washington, D.C., which opened last summer. De Jong said the company plans to cut the ribbon soon on a second shop in New York as well as stores in Dallas, Denver, Houston, and Seattle.
So who cares, besides the folks selling ads for Journal owner News Corp.?
The growing crowd of retailers trying to carve out a niche hawking decent men's suits for less than $600. For executives of J.Crew, Gap, and Men's Wearhouse the ad was likely the scariest news in the newspaper this morning.
De Jong wouldn't share any details of Suitsupply's financial performance, but he said the company's expansion has been successful: "Like they say in the U.S., we're happy campers."
Before it's here, it's on the Bloomberg Terminal.
LEARN MORE