Obama Sees Health Care as Legacy Too Worthy to Resist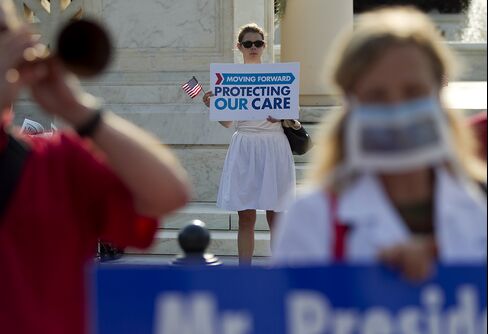 Just weeks after his re-election, President Barack Obama summoned about 20 senior administration officials to the White House's Roosevelt Room for an hour-long meeting on the implementation of his health-care law.
Obama began by reminding his staff that the Affordable Care Act would be one of his major legacies and its execution among the highest priorities of his second term, according to a Democrat familiar with the gathering. The session, which has been followed by regular presidential briefings, led to a two-track campaign to defend the measure against united Republican opposition declaring it a failure and to motivate uninsured Americans to sign up for health-care coverage.
The first phase will be on display tomorrow, when the president meets at the White House with women who will tell personal stories of how the law has already helped them. The second phase isn't yet visible, sparking concern that the public is unprepared for big changes less than five months away and that the White House is moving too slowly.
"It's starting to get a little late on the big campaign" of public awareness, said Ceci Connolly, managing director of PricewaterhouseCooper's Health Research Institute in Washington. "This is really the time when you have got to start selling a new insurance program."
A presidential aide responds that the administration has spent months combing through U.S. Census and other data to determine where the uninsured live and who they are. He said one-third of all healthy 18-34-year-olds without coverage live in Florida, Texas and California. Targeted messages will go out closer to the time when people can take action by buying subsidized coverage.
16 States
Only 16 states have agreed to set up the health-insurance exchanges at which millions will begin shopping on Oct. 1, forcing the federal government to step in and do it. Republican lawmakers have blocked funding. And a poll shows 42 percent of Americans don't even know the law was enacted. Senator Max Baucus, an architect of the statute, said he sees "a huge train wreck" coming.
The race to implement the Affordable Care Act -- which is expected to expand health coverage to about 27 million uninsured Americans -- is the latest challenge to a law that was passed in 2010 after a yearlong debate without a single Republican vote.
Court Fight
Republicans have been trying to undermine it ever since, going all the way to the U.S. Supreme Court. While the justices upheld the law, they ruled that states don't have to participate in one key provision, an expansion of Medicaid to all Americans earning near-poverty wages, further complicating implementation.
To counter the criticism, the White House has told all Cabinet members and senior officials to use commencement speeches to drive home for graduating college students and their parents the benefits they gain from a provision of the law that allows young adults to stay on their family's insurance plans until they turn 26.
Obama and his deputies promise that the new insurance options will be available on schedule and argue that for much of the country, the law is already a success.
"For the 85 and 90 percent of Americans who already have health insurance, this thing's already happened, and their only impact is that their insurance is stronger, better and more secure than it was before," Obama said at an April 30 news conference.
Whatever's Necessary
He also signaled the administration's awareness of criticism that the new system is overly complicated. Obama said a 21-page form that applicants were to be required to fill out when seeking coverage would be streamlined to three pages, because "people aren't going to have the patience to sit there for hours on end."
Eric Schultz, a White House spokesman, said the move is "a demonstration of our interest in taking whatever actions we can to make the law work well for all."
To keep tabs on whether the implementation is on track, Obama receives a written briefing once a week and meets with top advisers and senior officials of the Department of Health and Human Services every month to review its progress, according to a White House aide.
The meetings kicked off on Dec. 19, when most of Washington was consumed by a standoff between the White House and Congress over the budget and taxes. That briefing over a polished wooden table in the Roosevelt Room included a timeline of internal deadlines, said the Democrat familiar with the meeting who asked not to be identified.
Kaiser Poll
Participants included Health and Human Services Secretary Kathleen Sebelius, then-Deputy Chief of Staff Nancy-Ann DeParle and Cecilia Munoz, head of the White House Domestic Policy Council.
They stressed the need for a communications campaign to urge young, relatively healthy and uninsured Americans to sign up once the law takes effect. Their participation is crucial to assuring that beneficiaries aren't skewed to the chronically ill, which would drive up premiums.
The importance of such public outreach was highlighted by the Kaiser Family Foundation's most recent monthly poll of Americans' views on the health law. It found that 42 percent of people either don't think the statute is still in force or aren't sure, much less know what it requires of them.
Within a month of the meeting, Anne Filipic, deputy director of the White House Office of Public Engagement and a star organizer in Obama's 2008 presidential campaign, left the administration to lead an outside group, Enroll America, which focuses on promoting enrollment. Last month, the White House added a communications strategist, Tara McGuinness, who will concentrate on the law.
Social Media
The communications campaign will include promotions through social media and cable-television channels popular among young audiences such as Spike TV and sports networks, an administration official said.
To be sure, the start of the Medicare prescription drug benefit in November 2005, a much smaller undertaking, was also marred by computer glitches, confusion among beneficiaries, and even some lower-income people losing access to medication because of bureaucratic snafus. Then-Republican House Majority Leader John Boehner of Ohio criticized the implementation by the Republican George W. Bush administration as "horrendous."
The kinks were worked out. Ninety percent of enrollees were satisfied with the Medicare Part D benefit, according to a September 2012 survey of 819 beneficiaries conducted for the Health Leadership Council, an industry trade group.
Request Denied
Still, the issues facing the startup of Obama's health-care law are formidable. Sebelius said in an April 24 congressional hearing that the federal government wasn't sure until this year how many exchanges it would have to build for states.
The law gave the administration $1 billion for all implementation activities, and Congress has refused to grant Obama's requests for more money.
Congressional Republicans opposed a request from the Office of Management and Budget for $949 million in additional funding for implementation, and the money wasn't included in a continuing resolution passed in March to fund the federal government through Sept. 30.
Sebelius has instead shifted at least $566 million from other parts of her department's $967 billion budget, Ellen Murray, the assistant secretary for financial resources, said at an April 10 news conference.
She told the Senate Finance Committee at a hearing last month that she was "incredibly disappointed" that Congress hadn't given more money to carry out the law. The government plans to spend about $1.5 billion through October on the federal exchange.
Aetna, Cigna
The federal- and state-run exchanges will provide markets where companies such as UnitedHealth Group Inc., Aetna Inc., Cigna Corp. and WellPoint Inc. will compete to provide individuals with insurance, with qualified recipients receiving government subsidies for some of the cost.
A "data hub" that will feed personal information from the Social Security Administration, Internal Revenue Service and other agencies to both the federal and state exchanges is mostly complete, Sebelius said.
When she testified, Baucus, the Senate Finance Committee chairman, voiced concern about public confusion over how the exchanges will operate and among small business owners over what the law would require of them.
"I just see a huge train wreck coming down," he said. "What can you do to help all these people?"
Expandable Exchange
The federal exchange is designed to be capable of expansion to cover as many states as necessary with relatively little extra government work, an administration official said. Healthcare.gov, the website the government is using to publicize the law, will be re-launched as the exchange website in the summer, said the official, who wasn't authorized to be identified discussing the issue.
The government has hired a General Dynamics Corp. subsidiary, Vangent, to run as many as 14 call centers around the country with 7,000 to 9,000 agents who will provide customer service for the federal exchange, said another administration official, who requested anonymity. The contract is worth $530 million for Vangent in the first year, the official said.
"They're checking the boxes" said Caroline Pearson, a vice president at Avalere Health, a Washington consulting firm. "It's a question of whether any of the details may begin to be difficult, sort of at the final stages."
'On Schedule'
Marilyn Tavenner, the acting administrator of the Centers for Medicare and Medicaid Services, which is supervising exchange construction, wrote to Baucus's committee on April 9 that she expects the components of the federal exchange to be completed by September.
"We are implementing the law on schedule," said Schultz, the White House spokesman.
A bigger problem for the government may be marketing the health law, Pearson said.
The government has allocated about $8 million to the public relations firm Weber Shandwick to promote the law, and may spend more, according to an official at the Department of Health and Human Services.
That's not enough money for the kind of national advertising and marketing campaigns the law needs, Pearson said. Still, she said, the government can take advantage of many free ad options and there are independent organizations, including hospitals and advocacy groups, that will spread the word.
"The marketing effort will be crucial in figuring out how many people show up" when the exchanges open, she said. "And importantly, whether healthy people show up."