How High for U.S. Stocks?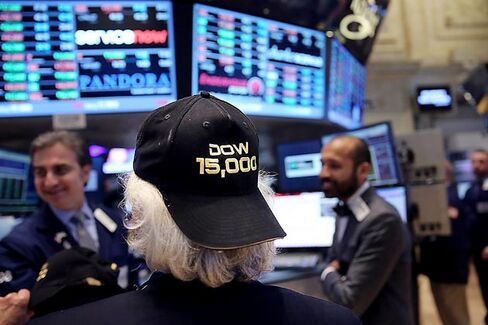 A moment of truth has arrived for Wall Street strategists: The market keeps going up and setting new records. Do you stake your reputation on the rally and jack your price target? Stay put? Or bet the other way?
The numbers illustrate a fresh urgency to the decision. According to data compiled by Bloomberg, the most recent month-end median of 17 brokerage estimates of where the Standard & Poor's 500-stock index will finish the year is 1615—a level the benchmark has already topped.
Right at that level is Citigroup's Tobias Levkovich. On May 2 he wrote about the catalyst of companies kicking back more cash to shareholders: "Returning cash to shareholders has not been as aggressive as in the past. … There is arguably more room for corporate management to reward owners for their holdings, which then could entice more people to buy stocks as a growing investment asset and income alternative. To some extent, mutual fund and ETF inflows thus far this year imply that the general populace is beginning to come around to the equity asset class once again."
Still, according to a Gallup poll conducted in April, despite the market's highs, stock ownership among U.S. adults is at its lowest level in 15 years; just 52 percent of respondents said they personally, or jointly with a spouse, own stock outright or as part of a mutual fund or retirement account. The report suggests that unemployment remains too high for many sidelined investors to feel comfortable jumping back into equities.
Gina Martin Adams of Wells Fargo Securities has the lowest S&P 500 target of the strategists Bloomberg tracks: 1390, which is 15 percent below where the index now trades. "Overall," she wrote on May 6, "the number of S&P 500 companies surprising on the upside this season has been low. The index is tracking a beat rate of only 57 percent versus the long-term average of 65 percent. Sales were notably weaker this season. … Only 39 percent of S&P 500 companies have positively surprised on revenues so far this season."
Tony Dwyer of Canaccord Genuity has the most bullish estimate of all major Wall Street equity strategists, with a 1760 yearend target on the S&P 500.
Birinyi Associates, an independent shop, was among the first to advise getting into U.S. equities before they reached their low a little more than four years ago. With its prediction that the S&P 500 would hit 1600 already successful, the firm now thinks the index could ascend to 1900. "In addition to the historical [bull market] parallels, we still view sentiment as subdued and nowhere approaching extremes," President Laszlo Birinyi and analyst Jeffrey Yale Rubin wrote in a May 3 note.
Fund flow information continues to show that these near-daily market records are hardly being accompanied by an investor feeding frenzy à la 1999-2000. According to the Investment Company Institute, the week ended May 1 saw an estimated $4 billion leave domestic equity funds. The question on everyone's mind remains when—if at all—the skeptically sidelined pile into this bull market.
Before it's here, it's on the Bloomberg Terminal.
LEARN MORE