How a Nevada Couple Sells Tattoo Gear Around the Globe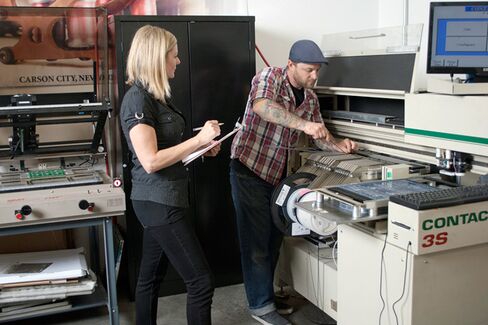 When husband and wife Kenneth and Sarah Brown starting manufacturing equipment to sell to tattoo artists, they didn't know they were building a global business.
Kenneth had quit his job as an engineer at Click Bond, a company that makes industrial fasteners in Carson City, Nev., and began apprenticing at a tattoo parlor. Before he could graduate to full-blown tattoo artist, he realized that much of the equipment in the average tattoo shop was woefully outdated. He soon set about streamlining the standard machinery, seeking ergonomic solutions that would reduce stress on artists' bodies and declutter the workspace: wireless foot pedals, designed to be thinner and sleeker than competing models, and power supplies that let artists run their machinery without keeping their foot on the pedal all day.
Kenneth designed the machinery. Sarah, who had recruited a team of more than 500 sales reps for Avon, ran the business. When the couple launched Critical Tattoo in 2005, they soon had a hit on their hands—among tattoo artists abroad as well as close to home.
The eight-employee company expects more than $2 million in revenue this year, with close to 70 percent of sales from foreign countries. Germany, England, and Australia are among the company's biggest foreign markets. Recently, the Small Business Administration named Critical Tattoo as Nevada's exporter of the year. What follows is an edited excerpt of my conversation with Sarah Brown on her success selling abroad.
Did you always conceive of this as an international business? When did you realize how big the opportunity was?
It's an interesting industry. A lot of the existing companies don't report earnings or sales numbers, so I struggled to do market research. It was more of a gut feeling. There was a trend in the media. There were TV shows coming out about tattoo artists. And the sheer volume of distributors for the equipment in different parts of the world started to give me a sense. There's a huge global market, and it's bigger than I initially thought.
So you work with distributors? Do you also sell direct? How have you managed those relationships?
We field phone calls from artists all day long, and we have distributors on every continent except Antarctica and Africa. In the beginning, we'd find people in trade magazines and just started e-mailing people who we thought might want to carry our equipment. Now they come to us, and we're super-picky about who we affiliate with. There's a lot of variance in this industry, and you don't want to support people who are doing kitchen-table tattoos. So we do a lot of research on who would be a good fit.
Do you worry about foreign imitators?
There are at least six versions of Chinese-made copies of our equipment. They have our original design with the original flaws. There's not much we can do about it—they're going to copy it anyway. We try to stand out with our service and marketing. These are electronic devices. They're made from components that can fail. We always answer the phone, listen to people's problems, and then we make it right. We'd rather do that than spend our money on legal fees.
What's your manufacturing operation like?
We've kept it small—we have about 2,500 square feet, with some room here and there to expand. We have a full machine shop, with a full line of electronics-making machinery and a screen-printing operation to make our own keypads. We don't like to outsource anything, if we can help it. That keeps us moving really fast and let's us design new products more quickly.
Before it's here, it's on the Bloomberg Terminal.
LEARN MORE