Chipotle Finds, for U.K. Burrito Fans, It's Not All About the Food
Chipotle touts the provenance of its ingredients. Locals push the fun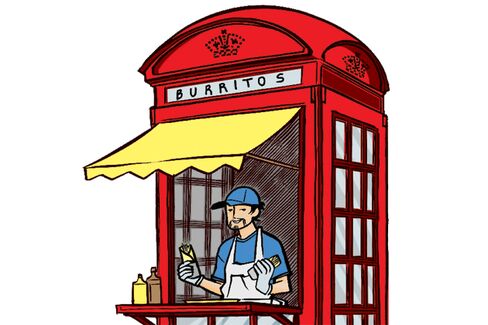 Standing in a line that snakes back to the entrance of the Chilango restaurant in London's financial hub, Beth Norden eagerly awaits her weekly roasted pork belly burrito. Norden, a 22-year-old intern at the Red Cross, likes the quick service and buzzing atmosphere. "There are so many different food choices in London, but I love Mexican—it's something different," she says. "And it fills you up."
Norden is among the growing ranks of Britons with an appetite for burritos. A handful of young restaurateurs have introduced stuffed flour tortillas into the U.K. culinary mainstream by stressing the fun or exotic nature of Mexican fare. Fast-casual eateries like Chilango, Tortilla, and Benito's Hat are expanding in London and other nearby regions where beans are usually served on toast and the Cornish pasty is the handheld food of choice.
The businesses' growth stands in contrast to Chipotle Mexican Grill, the U.S. burrito chain, which blames sluggish sales at its six London outposts on a lack of awareness about its brand and Mexican food in general. Simon Stenning, a director at restaurant industry researcher Allegra Strategies in London, says Chipotle's higher prices—£6.95 ($10.60) for most offerings—and industrial decor are actually turning off Londoners. "Chipotle is a bit too serious. It's a harsh environment and not engaging," Stenning says. "We know they have an incredible story about their food, but you go to the store, and you can't tell."
Chipotle, with more than 1,450 locations, will boost marketing in London to jump-start per-store sales that are "much lower" than at its U.S. restaurants, Co-Chief Executive Officer Steve Ells told analysts in February. Spokesman Chris Arnold says the design of its restaurants "has never been a problem for us in 20 years, and we don't believe at all that it is an issue in London."
For now, smaller upstarts have the edge in Britain's Mexican fast-casual dining market, one of the fastest-growing slices of the U.K.'s £54 billion ($83.5 billion) restaurant industry. London's homegrown burrito eateries don't have the resources to match Chipotle when it comes to the provenance of ingredients, like naturally raised meat, organic produce, and hormone-free dairy products. Chilango co-founder Eric Partaker says his selling point isn't the food. It's Chilango's "vibrancy—we're happiness in a burrito," he says over the lunchtime din at his bustling outpost in the financial district, one of five in London.
Partaker, who previously worked at Skype, imports habanero chilies directly from growers on Mexico's Yucatán peninsula. Yet he isn't as concerned about the origins of, say, tomatoes, which he'll buy from wherever's most affordable. "Starting out there's a natural temptation to mimic the brand of a bigger player," Partaker wrote on his blog in 2009. "Resist."
Only the extremely extroverted need apply for a job at Chilango, whose name is Spanish slang for someone who lives in Mexico City. Some aspiring staffers sing a song as part of their interview. The food-and-fun formula has attracted investors including former executives of Domino's Pizza, Krispy Kreme Doughnuts, and McDonald's. Partaker just raised an additional £1 million, which will help fund four new restaurants over the next year. Still, two early Chilango locations in shopping malls outside London were shuttered, proving that Mexican is still an acquired taste in areas where burritos are known as "Mexican wraps."
Brandon Stephens, founder of Tortilla, which like Chilango opened in 2007, is gambling that his burritos can travel beyond London. This year he'll open a kiosk in the West Yorkshire city of Leeds. The San Francisco native, who concocted the Tortilla business plan "after many beers" one night at London Business School, says his £5.95 burrito delivers the quality of Chipotle for about a pound less. He's also trying to win over those who say burritos are unhealthy by comparing the fat and calories of his fare to that of the ubiquitous sandwich chain Pret A Manger. Tortilla investors include Paul Campbell, the former head of U.K. restaurant company Clapham House Group.
Chilango outlets have colorful masks of Mexican wrestlers on the walls, and Corona beer bottles hang from Tortilla's ceilings. Benito's Hat downplayed the South of the Border link initially, as Mexican food had "such a bad reputation" in Britain, says co-founder Ben Fordham, a Brit who got a jones for burritos while attending law school in Texas. "At first, we played up the fresh, fun food vibe—the fact that it was Mexican was an afterthought," Fordham says. "Now it's all about saying we're the most authentic. It's a big shift."
Before it's here, it's on the Bloomberg Terminal.
LEARN MORE