Business Students Pick Microsoft Over Facebook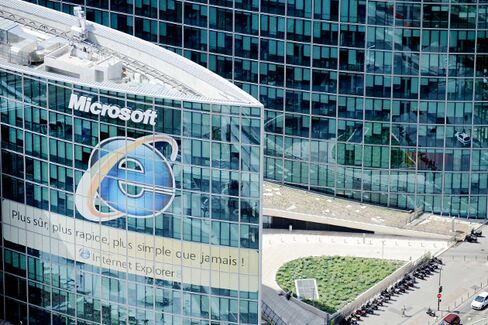 Microsoft has spent a bundle advertising its new Surface tablet and Windows phones, but consumers seem indifferent, or at least unwilling, to abandon their iPads or Android phones. The ads may be paying an unanticipated dividend: Undergraduate business majors want to work at Microsoft over Facebook, according to the latest list of favored employers by Universum USA.
In its annual survey of U.S. college students, Universum USA asked more than 75,000 students, including nearly 21,000 business majors, to identify the five employers they would most like to work for. Google once again took the top spot among business students, followed by Walt Disney, Apple, Ernst & Young, and Nike. (To see the top 50 employers, click here.)
While Apple dropped only one spot, from No. 2 to No. 3, its popularity among business students dipped from 2012, when it garnered 18.8 percent of the vote, compared with 16.8 percent in 2013. Facebook fell as a preferred employer, too, tumbling from No. 12, with 6.7 percent of the vote, in 2012 to No. 18, with 4.8 percent of the vote, this year. In tech, the shocker was Microsoft, which rose from No. 14 to No. 11, edging out the social media giant.
Clearly, Facebook and Apple have lost some of their appeal to such companies as Walt Disney, which got some buzz surrounding its acquisition of Lucasfilm and Marvel. "They're losing their edge as the only companies doing cool and innovative things," says Melissa Murray Bailey, Universum's president for the Americas.
Facebook's disappointing initial public offering and the surrounding controversy has not helped the company win over undergrads, says Bailey. "The tumultuousness of Facebook might not be for them," she says. Spokespeople for Apple and Facebook declined to comment.
Although much of the top of the list remains the same as last year, there were a couple of surprises. Deloitte fell from No. 5 to No. 7, the only Big 4 professional services firm to move up or down in the ranking. Management consulting had been the most popular sector among undergraduate business students, but it dropped to No. 2, with banks taking the third spot and media and advertising surging to No. 1. Among female business students, interest in both consulting and banking are far lower than they are among men.
Part of the explanation for these changes lies in a new generation's desire for work-life balance, something that careers in consulting and banking do not offer, experts say. Instead of lecturing prospective hires on the long hours they'll be working for their big salaries, they should be touting their flexibility, says Dan Black, Americas director of campus recruiting for No. 4-ranked Ernst & Young, the highest-rated Big 4 firm in the ranking. "At Ernst & Young, we have respect for people's schedules," he says.
Even though some employers say that today's graduates lack loyalty, that they job hop and don't want to work hard (based on their desire for flexible schedules), Black says it behooves employers to take advantage of the fact that undergrads are more tech savvy and more globally connected than any other generation. Moreover, they were born multi-taskers, he adds.
Employers have to reach out to potential hires in their own language, Black says. Ernst & Young incorporates multimedia, text messaging, and website components into its recruiting efforts.
Another bright spot on the 2013 list is retail. Nordstrom and H&M, made the list for the first time at No. 15 and No. 19, respectively, while Target moved up five spots to No. 23. Offering opportunities to advance within the company and be a part of innovative initiatives is what attracts young people to Target, says Tim Curoe, vice president of talent acquisition and HR operations for Target in Minneapolis.
To remain popular, employers will have to recognize that today's young people want more than a paycheck, says Curoe. "They [graduates] want an employer who will invest in their careers by offering ongoing career development and training opportunities. And I don't think it stops there. A company's commitment to community giving, corporate responsibility, and sustainability are absolutely on the minds of the candidates we see at Target."
Join the discussion on the Bloomberg Businessweek Business School Forum, visit us on Facebook, and follow @BWbschools on Twitter.
Before it's here, it's on the Bloomberg Terminal.
LEARN MORE