Whole Foods Profits By Cutting 'Whole Paycheck' Reputation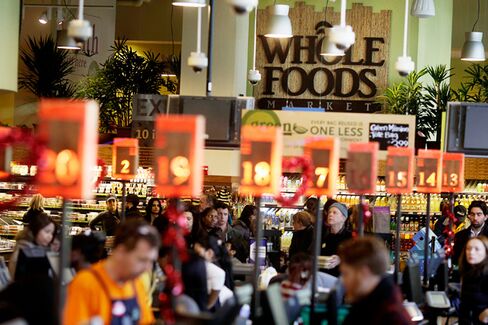 For most of its 33 years in business, Whole Foods has tried to convince shoppers and investors that it isn't just out for chief executive officers and affluent soccer moms. The company's bid for the middle market may finally be paying off, based on a stellar earnings report released late yesterday.
Whole Foods posted impressive gains in sales and profit for the recent three months, but such old-guard giants as Kroger and Safeway are likely more concerned with a few other metrics.
For one, Whole Foods said it is welcoming 7 million customers a week at its 349 stores. That's impressive, considering there are only about 115 million households in the U.S.
It is also committed to lowering prices—bidding for volume, possibly at the expense of margin. For example, Whole Foods staged a companywide "muchos mangos" a few weeks ago—10 mangoes for $5 on April 5.
The decision to rein in prices equates to some serious swagger from the Whole Food executives team. Strategically, they are telling grocery giants: "Forget six-figure shoppers, we run a tight enough ship to beat you in the brutally lean game of selling groceries to the everyman."
Here's how co-CEO Walter Robb described it to Fortune this week:
I mean, the only impediment you hear is that it's more expensive, right? Which is less true than it used to be, and if we can get through the price thing, then we can talk about what we want to talk about, which is the quality of the food.
So how does Whole Foods get through "the price thing"? By growing, for one. The bigger it gets, the more it buys; the more Whole Foods buys, the more it can realize economies of scale. In other words, it may be able to lower prices without giving up much on margin.
And it is slowly making progress on that front. In the past 12 months, Whole Foods has opened 32 new stores while keeping the amount it spends on the goods it sells fairly stable—around 64 percent of sales.
Another sign that Whole Foods is succeeding with mainstream shoppers: It is venturing out from Prius towns such as New York to open smaller, "right-sized" stores in places like South Bend, Ind., and Katy, Tex. By building stores more cheaply and giving them sizable publicity, Whole Foods is pushing them to profitability quickly. For Whole Foods stores that have been open less than two years, the return on invested capital is a fat 19 percent.
Sometime in the next few weeks, the company will cut the ribbon at a store in Detroit . If it can make money in a gutted city with 10 percent unemployment, Whole Foods might finally lose its "whole paycheck" reputation.
Before it's here, it's on the Bloomberg Terminal.
LEARN MORE