Want to 'Cultivate Wisdom' in B-School? Meditate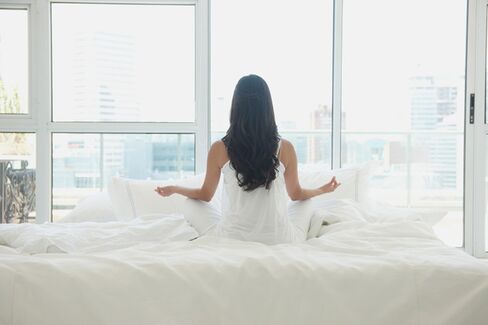 If David Mick had his way, meditation would be part of the core curriculum in business school.
Mick, a marketing professor at the University of Virginia's McIntire School of Commerce, teaches an undergraduate course, Cultivating Wisdom and Well-Being for Personal and Professional Growth, that includes meditation among the course work.
The goal of the course, which was offered in the spring for the second time and recently wrapped up, is to help students question what it will take for them to lead a fulfilling life, one in which they enjoy what they're doing and feel as though they are making wise decisions, says Mick. Although he caps the course at 25 students, there was a waiting list.
Sound too zen for a business school?
"This is most important in a business school," says Mick. "All one has to do is look at the fiascos on Wall Street and in other industries. This is not just about ethics. This is about how do you lead with wisdom, with compassion."
During the course, students read books, such as Wisdom: From Philosophy to Neuroscience (Vintage, Reprint March 2011) by Stephen S. Hall, which defines wisdom through eight pillars, including emotional regulation, patience, humility, compassion, and resilience. The class watches videos and applies ideas to different cases. For instance, students discuss what a staff member should do when he is worried about a misleading ad that his company is putting out.
Do not mistake Mick's class for a run-of-the-mill ethics course. He also aims to get students to think about what they truly want in life. He has them write papers about facing a substantial challenge. The final project is a five-page paper describing their life plan, in which students are asked to assess their strengths, what they think will bring them fulfillment, and what they don't want to regret at the end of their lives.
"Four years in college go by so fast," says Anis Rashid, a senior who just completed the course and is heading to New York City for a job in investment banking. "I had not taken the time to sit and think about what I want in life."
Having to write his life plan for the course forced him to do just that. He says he found himself thinking about the kind of career he wanted, then how he would raise his kids, and finally how much he appreciated his own parents.
While Rashid has not found himself meditating, he did appreciate the class session on it. A professor from the medical school came to describe the dangers of stress and how to recognize stressful situations. Rashid, who calls himself "neurotic at times," says the course was an eye-opener for a finance student such as him, and he thinks it should a requirement for all students.
"There's a culture in business that work is your life," Rashid says. "This class teaches us to start thinking about what makes you fulfilled. How can you do this job in a way that makes you happy, that makes you able to pursue what is really important to you?"
Join the discussion on the Bloomberg Businessweek Business School Forum, visit us on Facebook, and follow @BWbschools on Twitter.
Before it's here, it's on the Bloomberg Terminal.
LEARN MORE