Hong Kong Bourse Says LME Gains Limited as Costs Bite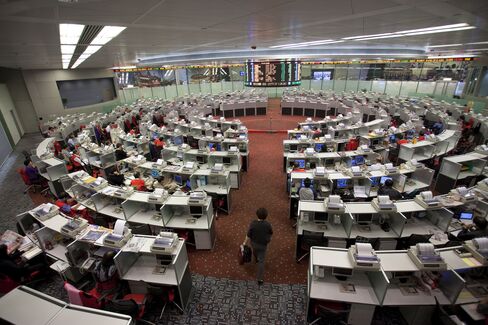 May 8 (Bloomberg) -- Hong Kong Exchanges & Clearing Ltd., the buyer of the London Metal Exchange, said contributions from its $2.2 billion acquisition will be limited in the next two years as costs offset gains in trading fees. Shares fell.
Net income for the three months ended March 31 was little changed at HK$1.16 billion ($149 million) from HK$1.15 billion a year earlier, the bourse said today in a statement. Higher operating expenses from running the LME offset trading-fee gains, it said. Average daily turnover value rose 18 percent in the first quarter to HK$74.4 billion, it said. That has since dropped by about 29 percent, according to data compiled by Bloomberg.
With growth in equity volumes and listings slowing, Chief Executive Officer Charles Li bought the world's biggest metal exchange in December to help the Hong Kong bourse expand into commodities. Trading gains in city have trailed regional markets including Japan and Southeast Asia, as Chinese data indicate that growth in the world's second-biggest economy may be slowing, hurting companies listed in Hong Kong. The average daily number of LME metals contracts traded rose 5 percent in the first quarter, compared with an 8.5 percent year-on-year gain for 2012.
"The slower daily average turnover in the second quarter may cause significant pressure on revenue going forward," said Kenneth Yue, an analyst at CCB International Securities Ltd. "LME's trading volume only demonstrated about a 5 percent year-on-year increase and that's almost half of what we expected."
LME Development
Shares of Hong Kong Exchanges have gained 3 percent this year before trading today, compared with an 8.6 percent increase by Singapore Exchange Ltd. and a 21 percent advance by Australia's ASX Ltd. The Hong Kong bourse's shares fell 1.1 percent to HK$134.30 at the close today, compared with a 0.9 percent gain by the city's benchmark Hang Seng Index.
Sales rose 19 percent in the first three months to HK$2.22 billion in the quarter, with the increase largely coming from the LME's trading fees, the company said. The gains were offset by a 38 percent jump in operating expenses, as Hong Kong Exchanges incorporated costs from running the LME.
"The LME fee structure has yet to become fully commercialized," Li said today in a posting on the bourse's website. "Its lower profit margins and the cost of the acquisition means the LME's financial contribution in the next two years will be limited."
Li wants to develop Asian time-zone trading and clearing in commodities and extend the LME's warehouses into China. He said today that the LME's "most tangible contribution will be to help Hong Kong Exchanges substantially speed up connectivity with the mainland market."
Daily Turnover
Hong Kong's 18 percent gain in average daily turnover value compares with a 74 percent surge on Japan's Topix Index and a 23 percent jump in Singapore, according to data compiled by Bloomberg. Average daily turnover in Australia rose 14 percent last quarter.
"The most important point the market is looking at is the future development of the LME," Kenny Tang, general manager of AMTD Financial Planning Ltd., said before the statement. "The Hong Kong market still has the ability to launch large listings, and fund flow into Hong Kong remains quite strong. We are expecting some improvements in turnover for the second half."
Listing fees rose 5 percent to HK$255 million in the last quarter from a year earlier, the company said in the statement. Revenue from initial public offerings and market turnover may increase this quarter as Sinopec Engineering Group Co. and China Galaxy Securities Co. seek to raise as much as a combined $3.6 billion by going public in Hong Kong.
LME Profit
"More positive momentum in the global economy provided a favorable backdrop for trading activities in our markets," Chairman Chow Chung Kong said in the statement.
The LME contributed about 16 percent of Hong Kong Exchanges' profit in the first quarter, according to the statement. Commodities contributed 1 percent of revenue, the bourse said in the 2012 annual report, while LME's profit contribution was 2.2 percent in the fourth quarter. The LME is planning to introduce its own clearinghouse by the end of 2014.
Other than the LME purchase, the company is also building its yuan business to take advantage of mutual market access with China. During the first three months, the exchange announced its regulatory approval to start after-hours futures trading, a move that was followed by mainland counterpart Shanghai Futures Exchange.
The bourse also said it will spend HK$3 billion on technology upgrades over three years to boost trading speeds and expand its derivatives business amid increased competition from regional exchanges.
Hong Kong Exchanges today also appointed Paul Michael Kennedy as chief financial officer.
To contact the reporter on this story: Kana Nishizawa in Hong Kong at knishizawa5@bloomberg.net
To contact the editor responsible for this story: John McCluskey at j.mccluskey@bloomberg.net