House Democrats Seeking Control Eye 17 Split-Ticket Seats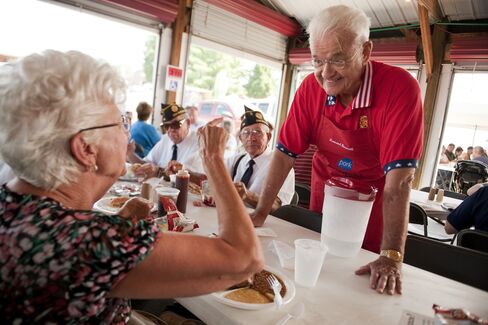 Democrats would move a step closer to a majority of U.S. House seats if they win a special election today in South Carolina. Getting the rest of the way will be much tougher.
Democrats need to take a net 17 seats to gain control of the chamber. In the 2012 election, there were 17 districts that voted to re-elect President Barack Obama and then switched parties to back a House Republican, according to data compiled by Bloomberg.
Those seats are now Democratic targets, yet capturing them will mean winning more than twice the eight seats they netted in the 2012 election. It also means defeating incumbents who have weathered the Democratic wave elections of the past.
The small number of districts "means there's basically no margin for error for House Democrats" in 2014, said David Wasserman, House editor for the nonpartisan Cook Political Report in Washington. Even if Democrats run the table, they must also hold all their vulnerable seats.
They are banking on some breathing room tonight.
Former South Carolina Governor Mark Sanford, a Republican, is competing against Democrat Elizabeth Colbert Busch, a business development executive and older sister of comedian Stephen Colbert, for a vacant Charleston-area House seat.
Though the district has a Republican tilt, Colbert Busch has a chance at an upset victory because of voter disenchantment with Sanford, whose political image was tarnished after he acknowledged an extramarital affair in 2009.
Trespassing Charge
He is also accused of trespassing on his ex-wife's property, an allegation that prompted Republican Party officials to withhold financial support for his candidacy. A court hearing on that case is scheduled later this week.
In a survey conducted May 4-5 by Public Policy Polling, a Democratic-leaning group, Sanford's support stood at 47 percent, compared to 46 percent for Colbert Busch.
While Sanford's self-inflicted wounds are providing an opening for the Democrats, other targeted Republicans aren't so accommodating.
Among the pro-Obama districts is Iowa's 3rd, which is anchored by the Des Moines area and held by Representative Tom Latham, 64, who has a history of winning support from independents. It's a seat that eluded Democrats in 2012 even though Obama's voter-turnout operation in swing-state Iowa surpassed that of Republican challenger Mitt Romney.
Winning History
Latham and other Republicans from such districts have a history of parlaying their personal popularity and campaign skills into multiple wins, even in such good Democratic years as 2006, 2008 and 2012. The 17 Republicans include Peter King of New York and Frank LoBiondo of New Jersey, who criticized Republican leaders over aid for victims of superstorm Sandy.
They begin a 2014 campaign in a stronger political position than in 2012. That's because the White House's party almost always loses ground in the House in lower-turnout midterm elections, when an administration's supporters are less motivated to vote than its opponents.
The only modern president whose party gained House seats in the sixth year of his administration was Bill Clinton in 1998, when he had a 66 percent approval rating amid a booming economy, compared with Obama's 50 percent rating in a May 2-4, Gallup poll.
Republicans have their own targets: nine districts that voted in 2012 for Romney and a House Democrat. Seven of them also voted Republican for president in 2004 and 2008.
"The math is on our side when it comes to really drilling down and looking at how these districts performed," said Andrea Bozek, a spokeswoman for the National Republican Congressional Committee.
Latham District
Latham's district runs from the Nebraska and Missouri borders through farms and into Democratic-tilting Polk County around Des Moines. His schedule last week, when Congress was in recess, underscored the importance of Polk County, where 57 percent of the district's residents live.
He toured a primate learning facility in southeastern Des Moines that is seeking designation as a federal refuge that can house more apes. He appeared at a Des Moines school cafeteria May 2 to promote a bill that would help schools acquire more cold-storage equipment so they can serve more fruits and vegetables to curb childhood obesity.
"I'm proud to say that we're trying to do something in Congress on a bipartisan basis -- imagine that -- to help our local schools in this effort," Latham said at the event, which was attended by a local mayor and media, the superintendent and the head of nutrition for Des Moines public schools, a school nutrition adviser for The Pew Charitable Trusts, and Isabella Blaine, an Iowa pageant winner who is focusing on eating disorders as her cause.
Polk County
In the 2012 election, Latham's goal was to lose Polk County by fewer than 10,000 votes, a deficit that could be overcome by Republican votes in Dallas County, a Des Moines suburb that's Iowa's wealthiest, and the rural areas. Latham's re-election campaign targeted ticket-splitting voters in the Des Moines area, where some of his campaign signs popped up in yards alongside Obama placards.
Latham lost Polk County by just 4,274 votes and 2 percentage points, as Obama carried it by 32,369 votes and 14 points. Latham won the other 15 counties in the district by more than 12 points each, carrying Iowa's 3rd by 33,368 votes.
"Iowans in this district are very independent," Latham said in an interview May 1 at a Dahl's Foods grocery store in Des Moines. "People in Iowa are known to split their tickets. They look at the individuals" running for office, he said.
Seed Salesman
To woo voters, he uses the skills developed as the much-traveled salesman for his family's soybean seed business. Signs for the company, Latham Hi-Tech Seeds, dot rural Iowa.
"The key to this job is listening," Latham said. "I do meet with everybody and listen to them and when they finally kind of get to know me, they realize that at least I will take the time to hear them out, and they appreciate that."
Will Rogers, head of the Polk County Republicans, recalled in an interview the time a local couple went to Washington to thank Latham for his work on a military health-care bill. Latham gave them a U.S. Capitol tour, Rogers said.
"That was a big deal to those folks, both on the policy side of it and also on the personal side of it as well," Rogers said.
Latham's understated manner differs from Iowa's other U.S. House Republican, Steve King, a favorite of anti-tax Tea Party activists with a history of controversial comments.
Easy Style
Latham "is sort of your conventional, moderately conservative Republican," Dennis Goldford, a political scientist at Drake University in Des Moines, said in an interview. "He's not a rhetorical bomb-thrower of the Steve King type."
Democrats acknowledge the stylistic differences between Latham and King as they seek to convince 3rd District voters that the two Republicans share the same political philosophy.
Latham is "an affable guy," though "his voting record is nearly as conservative as Steve King's," Troy Price, the executive director of the Iowa Democratic Party, said in an interview. "He's just not as loud."
Still, they have yet to find a strong Democratic candidate to run against him. Thus far, Latham's only competition is Gabriel De La Cerda, a community college student and former tire company employee.
Democratic strategists are planning to expand the field of competitive districts beyond Iowa's 3rd and other pro-Obama, Republican-held districts to include dozens that Obama didn't win in 2012.
Democratic Congressional Campaign Committee chairman Steve Israel, a New York Representative, said more than 50 Republican-held districts will be competitive in 2014, including some held by members linked to the Tea Party.
"In the 113th Congress, Republicans are disorganized, defensive and destructive -- which makes them destined for deeper losses," Israel said last month in a memorandum to House Democrats.