A Microlender Backs Startups to Bring More Than Loans to the Poor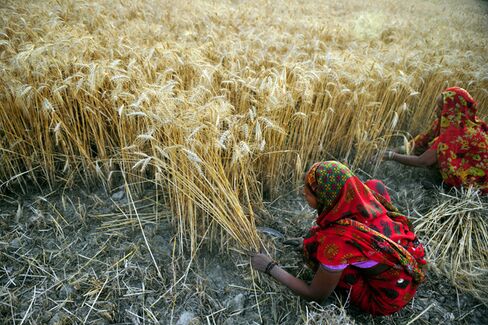 Microlending has lost a lot of its shine in the seven years since Muhammad Yunus won the Nobel Peace Prize for delivering small loans to help poor women start businesses. Starting in 2009, randomized trials (PDF) suggested that the benefits of microfinance had been oversold and that small loans have limited power to lift people from poverty. The next year, borrower suicides in India followed overreach by for-profit microlenders, punctuating the point.
The world now has a well-developed, decades-old system of getting small loans to poor people in many remote places. But mechanisms to offer them additional financial products common in the developed world—insurance, savings accounts, and easy ways to move money—are still in their infancy.
Microlending pioneer Accion, a global nonprofit based in Boston, today announced investments in five startups that intend to deliver such financial products to people around the globe. "The business models and the technology that will enable this broader range of financial tools to reach poor customers are just much less proven," says Paul Breloff, managing director of Accion Venture Lab, which will invest $10 million of Accion's money in such ventures. While microfinance remains "a hugely important part of the puzzle," Breloff says "it's only one part of the puzzle, even from the perspective of financial services needs."
Accion Venture Lab's first investments include Salud Facil, intended to help low-income people in Mexico pay for health care, and Varthana, an Indian company that finances low-cost private schools. The fund is also investing in payments companies in Asia and Mexico, as well as a Hong Kong startup that's trying to use data to improve credit scoring.
Other investors are moving beyond microfinance to offer a broader range of financial products for the developing world. LeapFrog Investments has a $135 million fund focused on businesses bringing insurance to underserved markets. "Many more people actually demand insurance and savings" than loans, says LeapFrog founder Andrew Kuper. "Low-income people, like everyone else, need a full suite of financial services and shouldn't be using credit as insurance or credit as a savings tool."
Omidyar Network, one of LeapFrog's investors, backs microfinance and other financial products for the poor. Partner Amy Klement says microloans spread quickly, partly because they're easy to make profitable. "Unfortunately, it has been harder to find savings or insurance products that are self-sustaining or profitable at the same level," she writes in an e-mail. "These products are inherently lower margin, and require more education and marketing." Innovations that can move the poor from cash to digital money, she says, should bring down transaction costs and make a wider range of financial products viable.
A 2012 report from consultant Monitor Group and the nonprofit venture firm Acumen Fund suggested that money is scarce for early, unproven ventures that target the world's poor: "The overwhelming majority of impact investing funds and advisors we spoke to expressed a strong preference for investing in the later stage"—once a company's commercial prospects have become clear. Accion's own Frontier Investment Group targets businesses at the later stage.
Accion Venture Lab typically invests about $300,000 and teams up with other seed funds or angel investors. Breloff hopes it can nurture ideas not yet ready for larger investments. "If a company comes asking for a couple hundred thousand and doesn't really have revenue, we can be a good investor," he says.
The bias toward more proven business models could mean that ideas to help the poor as much, or more than, microfinance does are left to die on the vine. Breloff says that while some of Accion Venture Lab's early bets may not pay off, "we can learn a lot in the process about what works, what doesn't, where there's promise, where there's hype."
Before it's here, it's on the Bloomberg Terminal.
LEARN MORE