Ex-Yankee Matsui Receives Japan People's Honor Award, NHK Says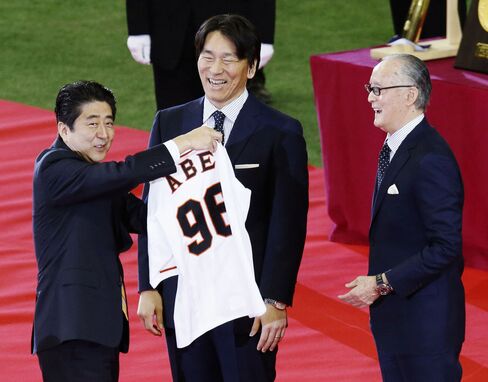 May 5 (Bloomberg) -- Hideki Matsui, Most Valuable Player in the 2009 World Series, and his former manager Shigeo Nagashima received Japan's People's Honor awards at a ceremony today in Tokyo, public broadcaster NHK reported.
Matsui set a record for Japanese players with 175 home runs in 10 Major League Baseball seasons, seven with the New York Yankees, after smashing 332 homers in 10 seasons with the Yomiuri Giants in Japan. Nagashima, who managed the Giants for much of Matsui's tenure, was the team's third-baseman from 1958 to 1974.
Prime Minister Shinzo Abe presented the awards at Tokyo Dome, home field of the Giants, NHK reported on its website. Today's date was chosen to honor Matsui's longtime uniform number 55, NHK said.
"We are honored and humbled to receive this award," NHK quoted Matsui as saying. "I'm going to do what I can to keep supporting people in Japan who love baseball."
Matsui, 38, announced his retirement as a player in December.
To contact the reporter on this story: Jacob Adelman in Tokyo at jadelman1@bloomberg.net
To contact the editor responsible for this story: Stanley James at sjames8@bloomberg.net