Buffett Says He Curbed Goldman Bet Amid Focus on Big Four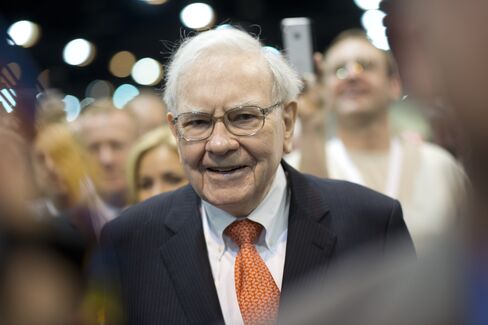 Warren Buffett, who passed on the chance to buy $5 billion of Goldman Sachs Group Inc. shares at below-market prices, said he's taking a smaller stake in the bank as he focuses on his top holdings.
The lower stake for Berkshire is "the amount of money we would like to have in Goldman," Buffett told Bloomberg Television's Betty Liu in an interview yesterday in Omaha, Nebraska, after his company's annual meeting. "Otherwise, we would have been putting a great many billions of dollars in, and that's not an investment that we anticipate being in our big four, but it's an investment we're happy to have."
Berkshire holds stock valued at more than $10 billion each of Coca-Cola Co., Wells Fargo & Co., International Business Machines Corp. and American Express Co. Buffett told Liu last year that he wanted to keep a balance in his portfolio among companies in different industries and that San Francisco-based Wells Fargo is his favorite bank.
"There's a limit to how much I would want in banks compared to the whole portfolio," he said. "I like loading up on the one I like best."
Buffett in March struck a deal to settle Goldman Sachs warrants granted at the height of the 2008 financial crisis. As New York-based Goldman Sachs's stock has risen, Berkshire's paper profit on the contracts climbed to about $1.3 billion at the May 3 close.
Paper Profit
Goldman Sachs and Buffett said that the bank agreed to give him an amount of stock equivalent to his average paper profit in the 10 trading days before the warrants expire on Oct. 1. The deal reduces some risk for Berkshire, which would have had to spend about $5 billion for all 43.5 million shares it had the option to buy.
Buffett, 82, said the deal doesn't preclude him from adding more shares of the bank, which he praised in a March statement as a firm whose leaders he has admired since the 1940s. Goldman Sachs has climbed 14 percent this year after rallying 41 percent in 2012 in New York trading.
Asked by Liu what would cause him to purchase additional shares, Buffett answered that he might buy if "it gets cheaper."
Before it's here, it's on the Bloomberg Terminal.
LEARN MORE