Buffett Clashes With Munger Over U.S. Corporate Taxes at Meeting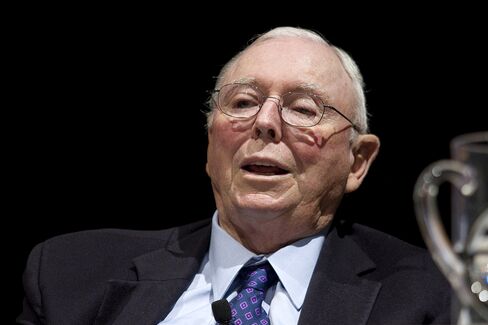 Warren Buffett, the billionaire chairman and chief executive officer of Berkshire Hathaway Inc., clashed with his long-time business partner over corporate taxes.
Buffett suggested ignoring companies' complaints over tax rates, while Vice Chairman Charlie Munger said levies should be reduced.
"American business is complaining enormously about the level of the corporate income tax," Buffett, 82, said today at Berkshire's annual meeting in Omaha, Nebraska, where the firm is based. "I would have you take that with a grain of salt."
Munger disagreed, saying that higher taxes hurt U.S. firms as foreign governments lower levies on competitors.
"The corporate tax rate should be lower," Munger said. "When the rest of the world keeps bringing the rates down, there's some disadvantage to us if we're much higher."
Munger, 89, said he concurs with Buffett that the richest U.S. individuals should pay more taxes. Buffett has pushed for higher levies on top earners, pointing out that his secretary has paid a higher percentage of her income in taxes than he has.
Buffett attributed his dispute with Munger over company taxes to politics. Munger is a Republican, while he's a Democrat, Buffett said.