Brooks Bodyguard Charged in News Corp. U.K. Hacking Case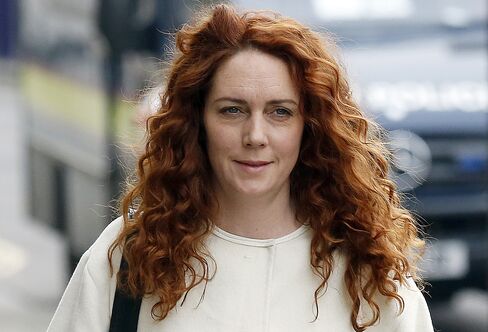 The bodyguard of Rebekah Brooks, the former chief executive officer of News Corp.'s U.K. unit, was charged with perverting the course of justice during probes of phone hacking and bribery at the company's newspapers.
David Johnson, 47, allegedly concealed "computers and other items from the Metropolitan Police Service," during its investigation into voice-mail interception and corruption of public officials, the Crown Prosecution Service said in an e-mailed statement.
News Corp. publications in the U.K. have been at the center of investigations into phone hacking and bribery since revelations in 2011 that the company's News of the World tabloid illegally accessed messages on the mobile phone of a murdered school girl. News Corp. Chairman Rupert Murdoch closed the newspaper in response to the scandal.
A Metropolitan Police spokesman and a CPS spokeswoman said they didn't know which lawyers are representing Johnson and contact details for Johnson weren't found through an Internet search.
Johnson was charged with one offense of conspiring with six others, including Brooks, to pervert the course of justice. He is scheduled to appear at a London court May 8, the CPS said.
Brooks, 44, a past editor of both the Sun daily newspaper and the News of the World, has also been charged with phone hacking and bribery. She was charged for perverting the course of justice in May 2012 along with her husband, Charlie Brooks, over claims they hid papers and computers from investigators and removed seven boxes of material from the archive of London-based News International.
Criminal Probes
Brooks's personal assistant and her chauffeur as well as the former head of security at News International and a security guard were also charged in the cover-up.
About 80 journalists and public officials have been arrested in connection with the criminal probes so far. Four former law enforcement officers have been sentenced to as much as two years in prison for giving information to News Corp. U.K. tabloids, three of them in exchange for money.
News Corp. journalists are accused of hacking mobile-phone messages of more than 600 people, including U.S. actors Brad Pitt and Angelina Jolie, soccer player Wayne Rooney and murdered British schoolgirl Milly Dowler.
Before it's here, it's on the Bloomberg Terminal.
LEARN MORE